Hollywood's Bleeding Review
Post Malone's most recent album Hollywood's Bleeding released on September 6, 2019. The album is a unique blend of purposeful auto tuned singing, guitar solos, and pop focused songs. 
Malone is placed in the category of Hip Hop/Rap. But I would only semi agree with that. He is an artist who continually pushes through the borders of all genres.
 In his new album Hollywood's Bleeding, songs like "Saint-Tropez" or "On the Road" are more Hip Hop. While "Allergic" and "A Thousand Bad Times" are more pop focused. 
This allowed him to quickly become #1 on the Billboard 200 charts, along with #1 on Billboard Artist 100 charts.
Malone worked with Da Baby, Future, Halsey, Meek Mill, Lil Baby, Ozzy Osbourne, Travis Scott, SZA, Swae Lee, and Young Thug on this album. This is a wide range of artists which allows Hollywood's Bleeding to be likeable by fans of all genres. 
"Myself" and "Take What You Want" are two songs featured on the album that are vastly different from each other, yet fit into the album perfectly.
"Myself" focuses on the realities of Malone's success, which includes touring the world and spending an excessive amount of money. This song is a calmer track for Malone with catchy drum beats. 
"Take What You Want" features Ozzy Osbourne and Travis Scott. The song focuses on a relationship with a girl who broke their heart. This song is extremely different from anything Malone has ever done. It does an amazing job of mixing Rock with Hip Hop. Without losing any element from either genre. There still is the classic Hip Hop drum along with a classic Rock guitar solo. 
My personal favorite is "Staring At The Sun" featuring SZA. SZA's R&B background brings a different element into this song. This song leans more towards the Pop or R&B genre; with a catchy chorus and meaningful lyrics. The mix of an easygoing rhythm and catchy lyrics contains a joyous flow. 
Hollywood's Bleeding and Malone's first album, Stoney, represent Malone's authentic self. Where he openly discusses relationships and drugs. Although, Hollywood's Bleeding contains more upbeat rhythms in comparison to Stoney. Which has allowed it to become a bigger hit than his previous albums. 
When comparing Hollywood's Bleeding to Stoney Malone stayed true to himself. His first album contained this wonderfully blended mix of genres and catchy lyrics. Which put Malone into his own box. Malone has continued his out of the box style in Hollywood's Bleeding, and having a unique style is the most important attribute of an artist. 
Malone's background created his unique style. His father was a DJ and through that Malone grew an appreciation for all music genres. Malone first began music in a heavy metal band. Which will continue to further the longevity of his career. 
Malone began his career only four years ago. He has gone from opening for Justin Beiber to playing solo at Madison Square Garden. Hollywood's Bleeding will only continue to further his career. 
About the Writer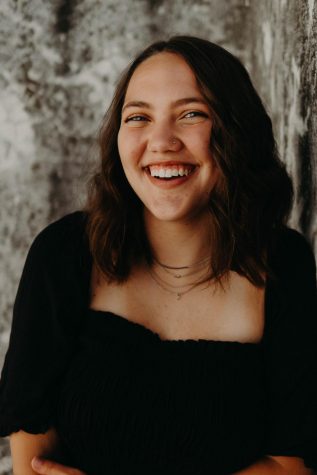 Mila Skrivan, Content Editor-In-Chief
My name is Mila Skrivan and I am the Content Editor-In-Chief. This is my second year on the Storm Alert Staff.