In it for the long run: Cross-country runners share the trials and triumphs of the sport
The key to success is the right pair of socks: the answer of any cross country runner. Before meets, Junior Ally Schilmoeller meticulously ensures that she holds her hair back in two braids, she sports her blue and pink Balega running socks, and she dines on her staple pre-race meal: chicken and pasta. Senior Alden Fitts, also donning his pair of lucky socks, prefers to count down the hours until he has to run. 1 hour and 20 minutes before the race, he'll use the restroom; 1 hour before the race, he eats his applesauce.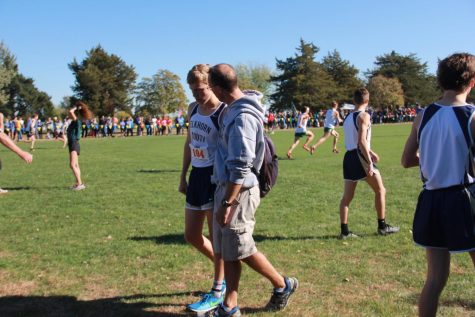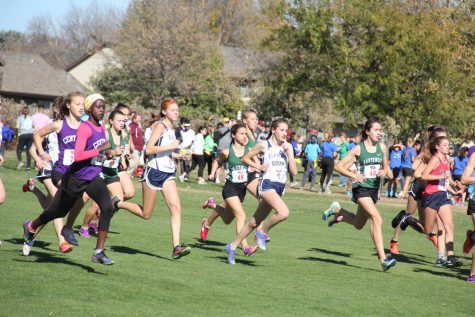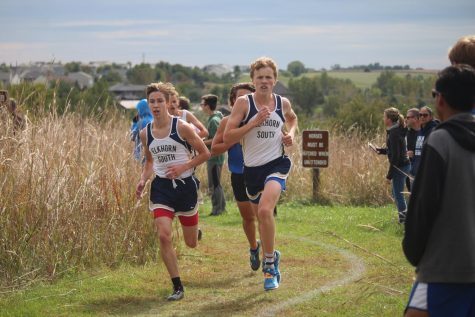 All of cross country's superstition is superfluous. In the end, it all comes down to pushing past the pain and relying on the body to execute what it has been practicing for. People commonly make the false assumption that runners like Schilmoeller (with a 5:21 mile time) don't struggle through a race, but in reality, cross country is a very taxing sport that requires perseverance.
"I'm good because of my mentality, it's kind of because I'm fast, but it's also because I know how to push through the pain and manage it," Schilmoeller said. "It's really just when you get to the point in a race where you are so tired, you don't even think you can keep going. You just have to know that you can do it and trust your training. Your legs hurt, your lungs hurt, everything hurts, but you can do it."
Schilmoeller started running, inspired by her aunt who runs marathons, in the third grade with Girls on the Run. While she messed around with her friend during practices, Schilmoeller surprised everyone when she started to place 2nd or 3rd at meets. This was the start of Schilmoeller's running career. Since then, Schilmoeller has set numerous school records in cross country and track. However, she does not run for the glory.
"I run for the team aspect mainly," Schilmoeller said. "I love just pushing myself and others around me, getting everyone motivated for a race, and the feeling after a race where we are all excited, and we did it together."
Unlike Schilmoeller, Fitts started running the summer leading into freshman year. He joined per request of his friend, Bobby Payne, to play a high school sport, and Fitts has worked to become one of the top 3 runners on the varsity team today.
"I think the difference between your base- how you start off as a runner- and your potential is a lot bigger in cross-country than it is another sport… your will and your potential for success depends on how much you are willing to put into it," Fitts said.
Fitts started freshman year with a 5k of 21 minutes, and has shaved 5 minutes off of his time to run 5k in 16:50. Other members on the guys' team, he mentions, have started off with times around 16 minutes, and while those individuals will get faster over the years, they won't drop as much time as Fitts has.
Both girls' and guys' cross country have two hour practices full of intense workouts and long distance after school everyday. For both genders, Mondays normally consist of a mile warmup or accelerations followed by varying workouts of repeat 1000s and mile repeats. Saturday practices translate to a 6 mile run. These intense practices comes into play during the meet by training runners' bodies so they know what to do, even when they can't think strategically in the heat of a race.
"The thinking that goes on when you're running a race is very primal," Fitts said. "The thinking isn't from you making logical decisions, it's more like you've practiced this much so it's a natural response… The only thing i actually think about the same way is the pain and how much it hurts. That's it. I tell myself I want to think of things that will motivate me but I always forget to do that."
A part of being captain for Fitts is leading by example at these demanding practices.
"I lead by example," Fitts said. "I think that's pretty cliche, but in cross country when your success in a race is so dependent on how hard you are willing to push yourself at practice, I try and do everything the right way."
While students are running on their own, cross country is a team sport. Each varsity team consists of five runners, and their placements contribute to a team score, along with two additional runners that gain points for Elkhorn South when they pass other team's top 5 runners. However, the team dynamic goes beyond just scoring, the mentality and connection of any other team exists as well.
"It's such a team sport because you are all going through such an unimaginable pain that only each other could understand," Schilmoeller said. "When you go through that, you have a bond that you can't have with anyone else."
The girls' cross country team uses secret sisters, where everyone has another girl on the team that they give a gift to before meets, to connect both Jr. Varsity and the Varsity cross country teams. Both girls' and boys' teams also share team dinners before State.
"I like the team aspect of cross country, because everybody is running the same type of race," Fitts said. "Everyone is doing the same event, you are all running at a relatively close time, and there's only 7 of you on the varsity team. It gets a lot closer and it's more fun because you can do stuff with your teammates a lot easier."
The guys always go out to Olive Garden the night before meets, and the team is full of friendly competition, which includes '[making] fun of each other for whoever won the most recent race.' This healthy dynamic is necessary to make the team as successful as possible.
"No team in cross country is going to win state as one kid who's running by themself," Fitts said. "It's usually two or three people who are pushing each other and that's what helps them get better."
This year, both teams moved up to Class A. While placing 3rd at state last year in Class B, their new class is very competitive, and Storm cross country did not place this year. Adjusting to this new competitive field has been the biggest challenge this season for Schilmoeller, as she has gone from winning every race in Class B to placing 6th and 4th at Class A meets.
"It was just really hard to stay positive," Schilmoeller said. "I knew I was still running fast times, but if someone passed me it would break down my mentality. I just had to stay really strong, pushing through knowing that I was improving because of the competition."
As Fitts's last year running cross country, he reflects on the qualities that cross country has fostered in him.
"I think the biggest effect that it's had on my life is it's made me a lot more resilient in different things," Fitts said. "It's given me a platform to tune my leadership skills. Its shown me what's the wrong way to lead and what's the right way to lead."
In the end, running cross country is far from glamorous, considering it is characterized by the pain in the eyes of the runners. However, year after year, students keep pushing themselves in this sport, because, to them, the work is worth it.
"Cross country is so mental that your body doesn't want to put yourself through what you go through every race again," Fitts said. "Really what you are doing is trying to get your body as close to exhaustion as possible, if you are doing it correctly. It's just not enjoyable. The reason I keep doing it is because finishing a race is so much more fulfilling than the nervousness that takes away from my happiness before."
About the Writer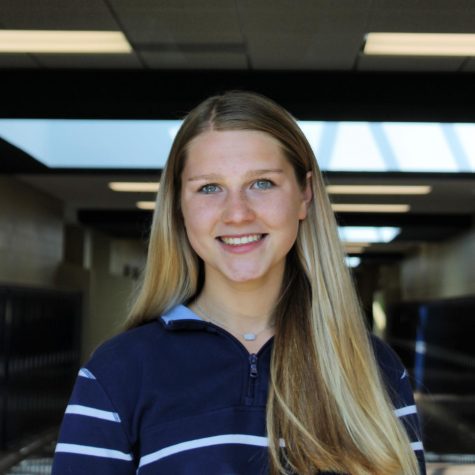 Kate Aksyonov, Senior Content Editor
Hi! My name is Kate Aksyonov! I am the Senior Content Editor, and I have been on the Storm Alert Staff for four years!