How #BeKind is taking over
Ashley Wyzinski, reporter
October 9, 2018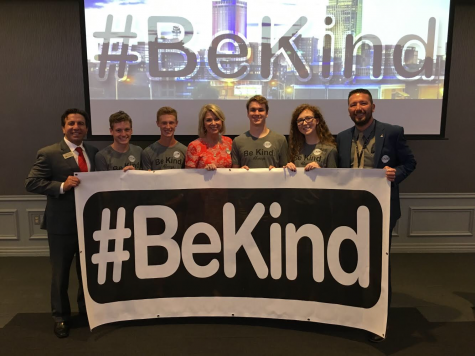 After Dr. Mark Adler the superintendent of Ralston Schools lost his son to suicide, he wanted to do something positive out of such terrible pain and loss. He created a program that focused more on the positive rather than the negative, in hope that the positivity would stop bullying and create a better environment for everyone.  A group of representatives across Omaha attended a #BeKind presentation last year, sponsored by Dr. Mark Adler, the creator of the #BeKind initiative. Ms. Rock Elkhorn South student council sponsor learned about the project last year and brought it to her student council students to share the message of #BeKind with the student body.
¨After hearing his [Dr. Mark Adler's]  story, everyone in the room appeared to be struck not only by the importance of this movement, but also by the urgency. We cannot decide to be kind to one another later, but rather we can and must start now,¨ Ms. Rock said.
#BeKind did not just appear overnight. The Adler family worked hard to make BeKind a positive and meaningful message. The message has now grown through the Gretna, Bennington, OPS, Elkhorn, and Millard schools. On the morning of August 24 upperclassmen student council members from Elkhorn South and the district meet with the Metro mayors, police and fire leadership, school superintendents, at UNO to sign a proclamation officially making August 24 #BeKind day.
Principal Mark Kalvoda ensures #BeKind is getting out to the students. This year the student council team made a long Google Docs of the activities and promotion they want to accomplish. Kalvoda works with the team to make the ideas a reality.
¨I believe that their ideas are far better then mine, because they live here everyday. They see it from a student learns rather than an administrative liens. So my charge has been to try to inspire them, to support them and give them the funds they need but to really say yes when they come up with an idea,¨ Kalvoda said.
The student council is working hard to spread the message of #BeKind and overall positivity. #BeKind was created to be all inclusive. It was created to affect all students, not just those who are sad, suicidal, or unhappy with their lives.
¨There is just a need for #BeKind. Even if you don't see physical bullying at school, you can see negativity everywhere, and #BeKind is about spreading the positivity and love,¨ Junior and student council member Pechous said. ¨Students can get involved by just being kind. If you see someone who is having a bad day, go up to them and be kind to them, that's what this is all about. This is more than just something for this year or just one day,¨ Pechous said.
The simple message of #BeKind, needs no explanation.
¨I think there's a need for it as a reminder that the person sitting next to you matters too,¨ Kalvoda said. ¨The simplest of small actions can have the biggest effect.¨
Teachers at Elkhorn South are adding #BeKind decorations to their room to remind students to be kind and stay positive. Part of student councils sponsor Ms. Norums room has been dedicated to #BeKind and motivational decorations. She finds the the message of #BeKind to be powerful.
¨It's important that we are not just telling others to #Be Kind, but we are truly living out this message each day,¨ student council sponsor Ms. Norum said.