Swoosh to Splash: How Switching Up Sports Led to Huge Success
Bounce, bounce, bounce. The ever-constant pattern of a basketball bouncing was all too familiar to Emily Sutter.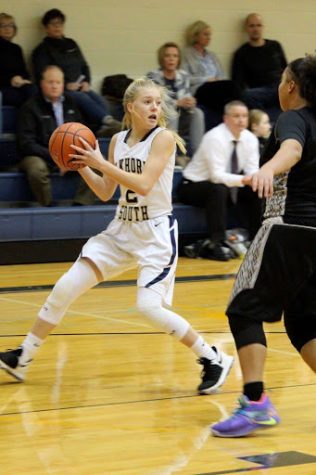 It was going to be Sutter's 11th basketball season. However, something was different this time. Just days into practice, Emily playing basketball freshman year. Emily competing at state dive she had the realization that the school's basketball program was not working for her. That's when Deb Howorth, head dive coach of the Stormin' Antlers stepped in and offered her a spot on the team. Emily then took a leap of faith, figuratively and literally, back into her diver roots. 
Student Emily Sutter re-evaluated her happiness this winter and realized that playing high school basketball wasn't her thing so she joined the dive team and instantly loved it.
 Emily said, "I quit basketball because honestly, the high school program wasn't for me. I just didn't enjoy it as much as I thought I was going to. I was super stressed getting all my homework done and going to practice all at the same time. I still love basketball, but I just didn't want to play for high school anymore." This revelation led to Emily exploring other possible options for sports to play. Dive instantly came to mind because she had prior experience from her youth diving days. In fact, she already knew the Stormin' Antlers' dive coach, Deborah Howorth. 
Ms. Howorth said, "She dove when she was younger with both of my girls." Deb has coached divers from both Elkhorn South and Elkhorn High on the co-ed team. Coach Howorth describes the team as a family that is always there for each other. The 11 members participate in various team bonding activities throughout the season, but her favorite is always the pre-state dinner. Having a tight-knit community and strong relationships with teammates were both very important to Emily and her family. 
"I learned that happiness is so important, and if you are not enjoying what you're doing, then it's not worth the time."
Kelli Sutter, Emily's mom said, "Diving is a small sport and you get to know your teammates and competitors from other teams and clubs well. She spent about 3 years competing and traveling with the dive club. A handful of the kids she used to dive with and competed against are also currently diving in high school so it has been fun to reconnect with them and their parents."
The community is definitely a major upside to the sport. Emily describes everyone as crazy supportive and super fun. While she usually dreaded going to basketball practice, she found herself looking forward to driving to Elkhorn's Common Ground for dive practice.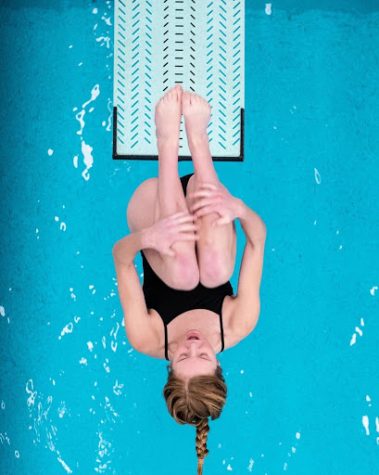 When asked to describe her experience at state Emily said, "It was amazing. I was so happy to be able to go, and I was so proud to go because it was my first year back at dive. The boards there were AWESOME and I had such a great time spending the whole day with all of my teammates. I would've liked to have dove a little better that day, but for my first year back I did really good. It was just such a great experience I will cherish forever!!"
Switching to dive gave Sutter this amazing opportunity, among many others. Coach Howorth said she was not surprised at all that Emily qualified for state, but she was very impressed. Her story proves that things always tend to work out in the end. 
When asked what she learned from this experience, Emily said, "I learned to trust my gut, and that it is so important to be in an activity that I love. I learned that happiness is so important, and if you are not enjoying what you're doing, then it's not worth the time. I am so thankful for what dive has given me, and for the amazing memories that I have with my teammates! The meets and practices were the best times, and I always wanted to go. I was so sad when the season was over!! I will never forget this season, and all of the fun times I had!!"
Leave a Comment