Last One, Best One
"That's good enough for an Elkhorn South touchdown," could be heard echoing throughout the Burke High School stadium. With 11 minutes left in the first quarter, senior quarterback Elliott Brown scored Elkhorn South's first touchdown against Creighton Prep. 
"It was so good for us to get a good start to the game and jump on them early," Brown said. This was the last regular game of the season. 
As the game carried on, Elkhorn South continued to score. Three minutes into the second quarter, junior Guy Hunt received a pass, scoring the second touchdown of the evening. 
Junior Trevor Winterstein intercepted a ball from Creighton Prep, gaining possession for Elkhorn South. With two more touchdowns scored by senior running back Eli Hustad, Elkhorn South was leading 28-0 by halftime. 
"Eli Hustad had a great game. He brings speed, power, and elusiveness to the table every week," head coach Guy Rosenburg said. 
The game picked up a bit during the third quarter with Creighton Prep scoring their first touchdown. Hustad had Elkhorn South's back though, scoring another touchdown with about five minutes to go. 
As the fourth quarter began, the score was 35-7, Elkhorn South. Hustad caught a pass from Brown and scored. Creighton Prep scored the last touchdown of the game with a little over eight minutes left. 
"The starting offensive line of Teddy Prochazka, Colin McDonald, Isaac Zatechka, Ciaran Thompsen, and Cooper Taylor were road-graders all night. What we did in the run game wasn't complicated, we weren't building rockets, but it was brutally effective," Rosenburg said. 
Elkhorn South took the win with a final score of 42-14. The team looks forward to making their mark in the 2019 play-offs. 
"We always are grinding and have been working for the state title in November," Brown said. 
Rosenburg spoke highly of his team. 
"It was a great team win and we're excited for the play-offs."
Leave a Comment
About the Writer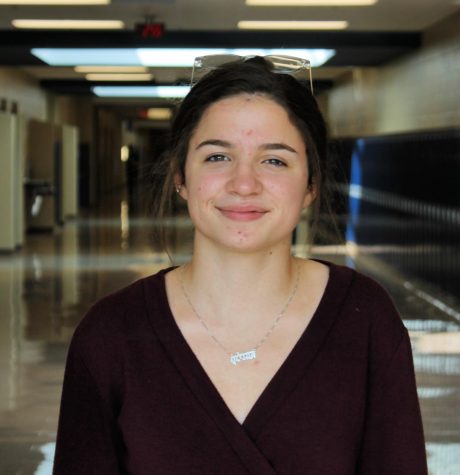 Calli Gregory, Senior Design Editor
My name is Calli Gregory and I am a Senior Design Editor. This is my second year on the staff!