Football in a time of Quarantine
Football is a national obsession in America and for obvious reasons. People love the stadium atmosphere, taking pride in being apart of a fanbase, and the American values that are expressed through this valued sport. Through the spread of COVID-19, football teams do not have the opportunity to have their practices or scrimmages this spring, which could ultimately affect their fall season. 
Nebraska Football is among the other teams in the United States that will not have a spring season, and their fanbase is so dedicated to Husker Football that they are lost on what else to do during this time. Nebraska football fans are perhaps the most loyal in college football. In the 2019 season, Nebraska owned an NCAA record streak of 368 consecutive sellouts at Memorial Stadium. Although the Huskers added more than 6,000 seats to the stadium before the 2006 season, Nebraska received approximately 15,000 requests for the new seats, ensuring that the sellout streak would continue in the years to come. Nebraska's football fans have been given the distinguished title – "The Sea of Red" – as waves of red-dressed Husker fans follow Nebraska at home and on the road. In fact, the entire state follows the Huskers, along with an ever-growing national fan base, packing Memorial Stadium for every game since 1962. Perhaps the most impressive measurement of the support Husker fans give to the Nebraska football team comes from its Spring Game attendance. Over the past nine seasons, more than 500,000 fans have flocked to Memorial Stadium to watch the final practice of the spring.
    "I'm into Husker football because I grew up with a dad and an uncle who are very passionate about the game as well and being a part of the greatest fan base in college football is very cool," junior Carter Owens said. 
Nebraska Football hosts a spring scrimmage each year, but the University of Nebraska has officially canceled the game that was planned to be on April 18th out of concern for the publics' health. While some were angered by this decision, most fans recognize the severity of the coronavirus and agree that precautions needed to be taken, even though they will miss watching their favorite team play football. Fans like Carter Owens also understand this frustration of being a big Husker fan and not being able to enjoy these games. 
"I think not having a spring will affect their fall season in a negative way because we have a new JUCCO receiver, Omar manning, who's supposed to be a  stud and him not getting the spring to learn the offense really hurts. We are short on depth at WR and Nebraska is still very young on offense," Owens said. "I look forward to game days in Lincoln when it starts back up again, there is nothing like the atmosphere in Lincoln and tailgating all day during game days."
Leave a Comment
About the Writer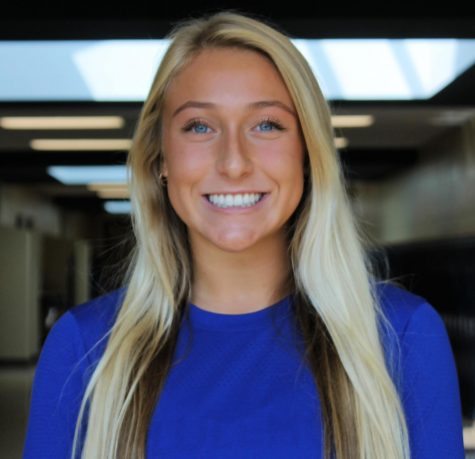 MacKenzie Wheatley, Junior Reporter
Hi! My name is MacKenzie Wheatley and I'm Junior! This is my first year on the Storm Alert Staff!