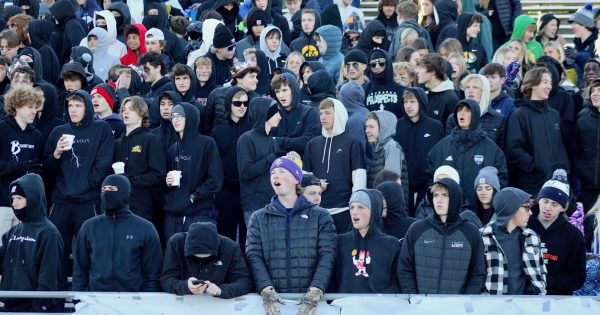 With the winter weather here, it is tempting to just stay at home in your warm beds on Friday nights, but when you have as skilled of a football team as Elkhorn South, it is almost a necessity to attend the football games. The beginning of playoffs kicked off to a great start, as Elkhorn South quickly gained a lead over the opposing side, Papillion-LaVista South. The Storm got their lead in the first few minutes of the first quarter, and maintained it throughout the rest of the game. 
This game was jam-packed with thrilling plays and big moves by the Elkhorn South Storm. The game started off with a 77 yard return by senior, Ty Nielson. Shortly after, senior Brady Bosquet was able to finish this off by scoring the first touchdown of the game, which took place only three plays after Nielson's run. This touchdown riled up the whole team and also showed that Elkhorn South was here to win. From the first touchdown to the rest of the game, the team was able to keep their energy and fight til the end.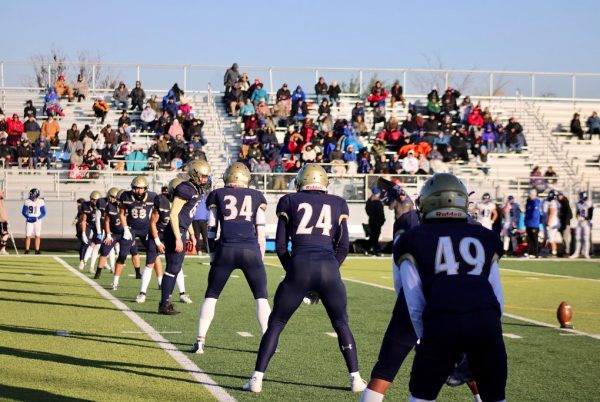 At halftime, the Storm was still towering over the Titans with a score of 35-0. Although, in the second half, the game got a little better for the Titans. The Titans were able to put some points on the board, but not much against the Elkhorn South defense. Elkhorn South ended up finishing the game with a total of 358 yards, 185 passing yards, and 173 rushing yards. On the other hand, Papillon-LaVista South finished with 120 total yards, 77 passing yards, and 43 rushing yards. In comparison to the Titans, the Storm doubled them in all three areas of the finalized game statistics (stats).
With the final score adding up to 42-8, Elkhorn South completely stomped Papillion-LaVista South and took home another win. Including this win, Elkhorn South's record has bumped up to 9-1, and they are now ranked in the number three spot for state rankings. As we head into this week's playoff game, let's bring with us the same energy and drive as we did this last!