A Golden Game for a Golden Girl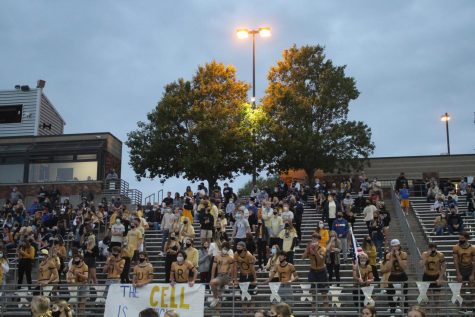 On this crisp September night, excitement was murmuring through the stands. The Friday night lights are finally back in session as the student section seniors finally returned to the stands.  The September 18 football game was a practically perfect night. 
The Storm played an exciting game all night against Lincoln Southwest.
"Our defense was suffocating and relentless", Commented Head football coach, Mr. Rosenberg, "[Lincoln] Southwest gained only one first down all night by passing or running. The effort and pursuit to the ball were outstanding. Coach Kerwin and the defensive staff built a great plan and the players executed it as a unit. Inside Linebackers Sam Hoskinson, Eli Small, Bo Wieseler, Gabe Edwards led the charge.  Joey Falk and Guy Hunt continue to play a high level at Safety."
After an enthralling first half, the team was enthusiastic at halftime.
"We played a great first half," said Senior Guy Hunt. "There were a couple of offensive drives we didn't capitalize on but we made some arrangements, were going to come out here in the second half and we're going to put 24 more [points] up if not more. Roll Storm!", says Hunt.
Coach Rosenberg commented on the teams first quarter performance
Rosenburg remarked, "On Offense, we are still not executing at the level we need to. We're productive in stretches but not as consistent as we need to be. We have done an excellent job of taking care of the football and that is the most important thing — we were turnover free tonight".
This gold out game was not just about football. The gold out theme brought attention to a very important cause– pediatric cancer. It also celebrated a very important person, Jozlyn Sutko. Jozlyn is a middle schooler in the Elkhorn district.
Jozlyn's mother, Melony Sutko shared some of her story. 
"Joslin is a very outgoing, energetic, and athletic little girl. She loves to be involved in all different activities from athletics to drama to girl scouts. She loves people and loves to be around people. I knew she would feel blessed by getting some good positive support", says Sutko.
The gold out celebration was put together by the elkhorn booster club to raise awareness for pediatric cancer and show support for Jozlyn.
Ms. Sutko emphasized how the game was held at just the right time. 
"The timing is really perfect", remarked Melony. "[Jozlyn] was so sick for so long that she would have not wanted any attention, didn't want to do anything, didn't want to go anywhere. So now she's coming out and slowly starting to rehab her body. It's really perfect now because she's feeling like herself and it's motivating for her to experience life a little more". 
The Storm cheer team, dance team, and football team all showed their support for Jozlyn during the game through exuberant shouts of "Jozlyn strong!" and smiles flashed her way.
"I am just amazed by the support and all the young men that we have met", says Ms. Sutko. "They've really been awesome and made her feel very very supported. This is just really incredible for her to really get the opportunity to feel like herself and be a part of a community that we will eventually be a part of. This will be where she will be someday and have these memories of today." 
The Storm rallied together to win a golden game for a golden girl and make memories that will last forever.
"It was a great team win, it's bigger than a game, this one was for joslin" , commented Senior Joey Falk. "We had a lot of fun and it was a great team win".
Jozlyn's bright smile throughout the night filled many people's hearts with joy. She was at a loss for words but she took in all the love and support.
Jozlyn simply said,"I didn't know what to say"
Leave a Comment