The Elkhorn South Girls Golf team competed in district golf on October 3 at Fairplay Golf Course in Norfolk, Nebraska. In order to qualify for state, the team needed to place in the top three out of the eight teams, which they were able to accomplish. The Varsity team finished with a team score of 333, tying with Westside for first place, forcing a playoff. After a tough playoff between the teams, Westside acquired first place in the District tournament with Elkhorn South placing second. Along with qualifying for state as a team, three of the five varsity individuals from ESHS qualified for state individually. Senior captain Jessica Tackett shot an extraordinary 74 taking first place. Alongside Tackett, Junior captain Carys Nelson shot an 84 taking fifth place and Sophomore Ellen Bode shot an 87 taking tenth place.
On October 9-10, the team competed in the state tournament located at Riverside Golf Club in Grand Island, Nebraska. The Varsity team consisted of Tackett, Nelson, Bode, Junior Callie Nelson, and Senior Kenna Jordan. The tournament lasted two days, each day consisting of a full 18 holes. The team finished fifth out of the twelve teams competing at the State golf tournament wit
h a score of 709 (357-352). Bode finished with a score of 168 (84-84), Tackett with a 176 (89-87), Carys Nelson with a 179 (87-92), Callie Nelson with a 186 (97-89), and Jordan with a 201 (109-92). The golf team had so much fun at state and created everlasting memories.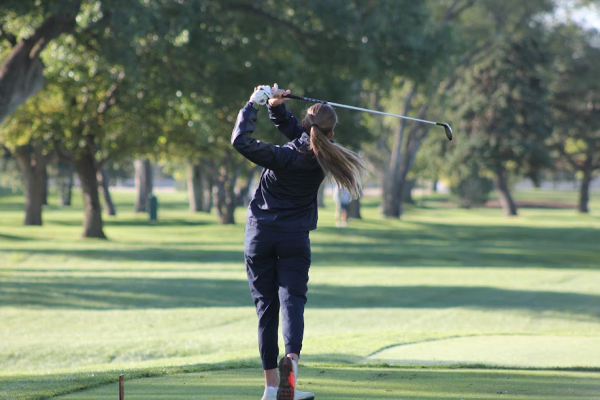 In the previous 2022 season, the team placed tenth out of the field of twelve teams. The state tournament was hosted at Norfolk Country Club. Last year, the team score was a 760 (385-375). Although this was definitely not the way that the team wanted to end the season, four of the five athletes returned for the 2023 season eager to improve and compete. The team was able to shave off a total of 51 strokes from the previous year at the 2023 state tournament. This was a significant improvement reflecting the girls' and coaches' hard work and dedication in and out of season. The team is very thankful to Coaches Kim Barmettler and Ashley Willms for their time and dedication that they put forth to create notable developments in all of the athletes. Overall, the 2023 girls golf season was a success with many girls achieving their personal bests, crushing their goals, and making so many memories.