Man On The Moon III: The Chosen
Scott Ramon Seguro Mescudi better known by his stage name Kid Cudi, is an American rapper, singer, songwriter, record producer, actor, and record executive. He has widely been recognized as an influence on several contemporary hip hop and alternative acts. A couple songs that are more well known are "Day 'N' Nite (nightmare)" and "Pursuit of Happiness – Extended Steve Aoki Remix" which have one many Grammy's. Kid Cudi recently released his new album called, "Man On The Moon III: The Chosen" that came out December 14, 2020. 
The whole album gives off a relaxed vibe and I can best envision it to be listened to while I am on a late night drive with friends on a backroad with the volume turned all of the way up. It also reminds me of how it would feel to take all of the negativity in your life and turn them into positives, as most of the songs portray that. This is also the type of music that has a deeper meaning, but the beat makes you feel blissful and powerful. The lyrics in some of the songs are very dark and sad, but the way he sings it and mixes it with beats, makes it almost happy. 
My favorite songs of this album are 'Tequila Shots' and 'Show Out (with Skepta & Pop Smoke)'. These songs are very different, yet make me feel happy. The start of 'Tequila Shots' reminds me of 'Pursuit of Happiness' which makes me enjoy it already because I like the vibe of that song. Throughout listening to it, I noticed that his vocal range is very up and down, as well as slowing some words down and picking up the pace in others. It is a very unique song that does not sound like the other popular songs that have been released recently. The lyrics are hard to pick up on, but the overall sound of the words with the beat is what makes the song good. The other song called, 'Show Out (with Skepta & Pop Smoke) is also another top pick for a couple reasons. This song is so chill but also upbeat, which to me is an interesting tempo. The beat is slow and intense, but at the same time it's simple which makes up for fast rapping. In the background of the verses there are a lot of different sounds and all of the artists have an equal amount of time. I also really like how each artist chosen to feature in this song has a different style of music, because it creates a unique song in itself. 
Overall, I really enjoyed the album and I would definitely recommend giving it a listen. All the songs are so different, yet the vibe is all the same. I also liked all sixteen songs on this album, which is very rare to come across. All the songs are also very unique to what is played on the radio and what is common for rap culture. 
Leave a Comment
About the Contributor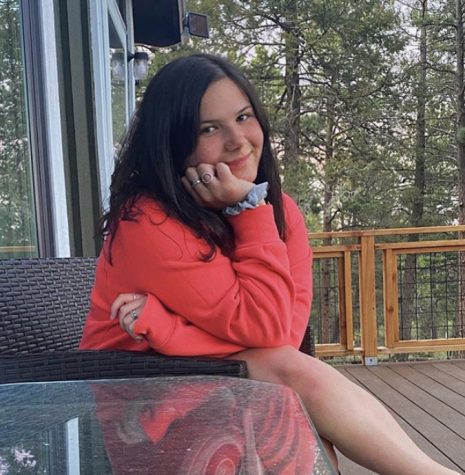 Gigi Gillespie, Reporter
Hi! My name is Gigi Gillespie and I am a senior. This is my first year in newspaper and I am so excited to be able to learn about what it takes to become...