Supporting the Legacy
Senior Class Board holds silent auction to fund raise for Legacy Scholarship
Chik-fil-a cows with sunglasses, Kendra Scott earrings, ACT prep courses, photoshoots, and many more items were available for bidding during the week of parent teacher conferences. While many participants walked away with great deals on great items, the real winner of the night was Elkhorn South's Legacy scholarship, sponsored by the Senior Class Board. 
The Legacy scholarship was started by the class of 2019, and this year's senior class has decided to continue it's life. While most scholarships commend and prioritize academic excellence and high achievement, the Legacy Scholarship focuses only on a student's character in overcoming adversity and representing the spirit of Elkhorn South.
"I think it's super important that we give scholarships to people who don't necessarily have the best grades or scores," senior Julia Patterson said. "Growth in high school is defined by so much more than that, and this is what our scholarship is about."
The previous class has fundraised for the scholarship by asking for donations from parents, with the Elkhorn Foundation matching up to $10,000. As the 2020 Senior Class Board planned this fundraiser, they aimed to ensure that there would be enough money that the Legacy Scholarship could continue to benefit students for years to come. 
"We decided to reach out to local businesses in the area to get cash donations or any kind of free product or service," Senior Daniel Guenther said. "Any donations we got from the businesses would then be auctioned off online for the entire community of Elkhron."
Patterson's mom has run many auctions herself, so Patterson took the lead in organizing the set-up for the bidding. The rest of the senior class board did their part by collecting donations and promoting the auction at conferences. 
"We spent two days at the parent-teacher conferences to hand out flyers and get more people thinking about participating," Guenther said. "It was a huge success, as many parents and teachers were willing to bid on almost all the products we had."
Through the silent auction and donations, the group raised over $2000. All of this money will go directly towards the scholarship, as the bidding items were all generously donated by businesses in the community and cost the Senior Class Board nothing. 
To all who donated, Patterson has a message of thanks:
"Thank you so much! None of this would have been possible without all of our generous donations. Elkhorn has the most supportive community, it is incredible."
About the Writer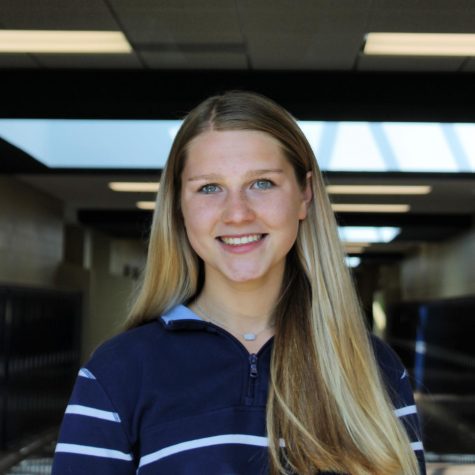 Kate Aksyonov, Senior Content Editor
Hi! My name is Kate Aksyonov! I am the Senior Content Editor, and I have been on the Storm Alert Staff for four years!