Elkhorn High Revels in Rivalry Victory over Elkhorn South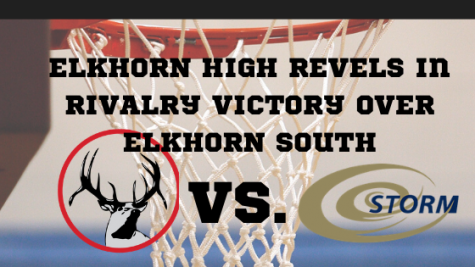 The Elkhorn High School Antlers (14-4) defeated the Storm of Elkhorn South (6-12) by way of a 51-42 convincing win last Saturday, snapping the Storm's three game winning streak. The Antlers jumped out to a big 18 point lead at halftime and never looked back, dominating on both the offense and defensive side of the ball.
The seniors for Elkhorn came out to play right from the get go, with Caden Schutte knocking down two early threes, as well as the constant offensive threat Bryson Hochstein presented. Hochstein ended up leading the way with 13 points for the Antlers, with Caden Schutte adding 12 points. Juniors Drew Christo, Gannon Gragert, and Colton Uhing each put up 8 points in the road win.
For Elkhorn South, they struggled to find a rhythm from the get go. Down 18 at halftime, the Storm looked down and out already. However, in the 4th quarter, Elkhorn South cut the deficit to 5 with a pair of buckets from Zach Lafave. He ended with a rare double-double scoring 21 points and grabbing 11 rebounds. Freshman Tate Odvody proved to still be a reliable piece of the Storm's offense, laying in 12 points.
"We had a really good week of practice, and I think our players really bought into our zone defense which proved really effective," said Elkhorn High School Coach Benji Hoegh. "The big thing for our team was securing rebounds tonight, and we grabbed just enough to end up on the winning side."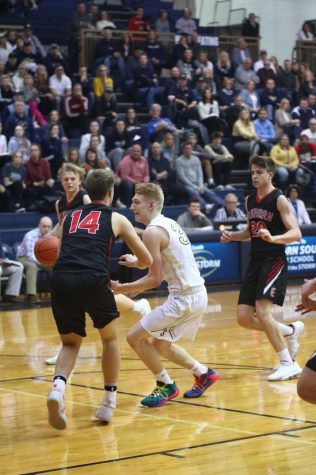 The Antlers ran a zone for the entirety of the game on Saturday, which proved to be a challenge for Elkhorn South's offense. Through the first 3 quarters the Storm only had 29 points on the board as the Antler zone kept their offense in check. Forcing Elkhorn South to work the perimeter and only drive when necessary took away their biggest strength as a team. 
"Their zone was really good that they ran along with their team's discipline, it limited our opportunities and possessions on the offensive end," said Storm Coach Nolan Reily. "Late there however, I knew we weren't going to just go away. Our kids aren't built like that, and it showed the passion and will these kids have for the game."
Right from the start for Elkhorn, senior Bryson Hochstein showed the maturity of a true team leader. He controlled the ball when breaking Elkhorn South's full court press, and knocked down 2 big free throws late in the game. Hochstein finished the game with 13 points, but his influence on the game was seen through his positive attitude and his ability to continue to encourage his teammates.
"We were making the right decisions in the first half, limiting our turnovers and getting the best shots possible for our team," said Hochstein. "We just put our zone in earlier this week, and funneling back into our fast break defense with a 1-3-1 zone was really effective in stopping their drive.
For the Antlers, they will travel down to Lincoln to face Pius X next Tuesday, which should prove to be an interesting game, before returning home on Friday to face Bennington. Elkhorn South will look to regain their winning ways against the Benson Bunnies next Friday.