Storm blows away the Chieftains
Elkhorn – Elkhorn South basketball (4-11) defeated Bellevue East (7-8) Thursday by way of a 61-47 victory. The Storm were coming off a highly contested overtime loss to Papillion La-Vista South and bounced back against the Chieftains.
Freshman Tate Odvody dropped a game high of 25 point, while also managing to snag 2 rebounds for the Storm. Senior Max Mosser and junior Reid Nelson scored 10 points each for Elkhorn South. Wayne State commit Zach Lafave added 7 points to go along with 13 rebounds. For the Chieftains, Joey Skoff put up 23 points which was the high for Bellevue East and shot 6-23 from the floor.
Elkhorn South's offense looked in the groove the whole game as they shot a respectable 45% from the field and an astounding 91% from the freethrow line. Tate Odvody got off to a hot start early scoring 5 of the team's first 9 points. Dominating down low was the Nebraska Husker football commit Teddy Prochazka as he had 3 big offensive rebounds to set the pace for the Storm.
"It was a team effort with high urgency on the defensive end of the ball leading to a great performance," coach Nolan Reilly said. "Joey Skoff, their best player, averaging 24 points a game, the urgency we had to get out and guard him helped us win."
So far this year has had its ups and downs for this squad, but they have found the resiliency to persevere to keep on fighting. The Storm have now won 2 of their past 3 games and will look to build on this performance as the season progresses. 
"We can't change our attitude, keep doing the little things like grabbing loose balls and competing to be successful," Reilly said. "Our team needs to keep plugging away at the basics, and competing as a team and covering things up."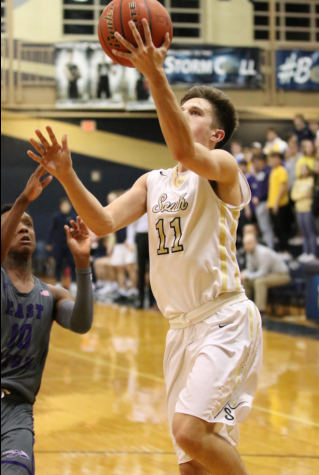 Senior Zach Lafave had a quieter game in terms of scoring, but still carried the load on the defensive end with 13 rebounds and 2 blocks. The small forward will be attending Wayne State this coming Fall, and down the stretch showed how much of a leader he can be with some impressive plays on the defensive end.
"Tonight I was looking for the open passes, not trying to do too much, and taking the best shots I can take to help the team," Lafave said. "Coach emphasized playing as a team tonight and I thought we got everyone the ball tonight and distributed really well."
Elkhorn South will look to build upon this performance as they will look to upset ranked Lincoln Pius X at home on Saturday. The Chieftains will be at home against Westside on Saturday as well, and look to bounce back from this game.