Yeezus finds Jesus
Kanye West's Conversion to Christianity
Kanye West has been portrayed in the media as "crazy." Although, with the release of West's gospel album JESUS IS KING on October 26, 2019, he is seen as a "good man."
West's conversion to Christianity was a mere six months ago during Coachella. Which is shown within his stylistic change from Yeezus to JESUS IS KING
The JESUS IS KING track list is, "Every Hour" (feat. Sunday Service Choir), "Selah," "Follow God," "Closed on Sunday," "On God," "Everything We Need" (feat. Ty Dolla $ign & Ant Clemons), "Water" (feat. Ant Clemons), "God Is," "Hands On" (feat. Fred Hammond), "Use This Gospel" (feat. Clipse & Kenny G), and "Jesus Is Lord.
West's past songs, "I Love Kanye" and "I Am a God" focused on idolizing and selfishness. While West's new songs, "Selah" and "God Is" focuses on his Faith. 
According to Kanye West in The Kanye West Interview Beats One,"Now that I'm in service to Christ, my job is to spread the Gospel to let people know what Jesus has done for me."
West has shifted his "me centered life" to one focused on Christ. 
West's new coming proclamation of faith has drawn new fans in. But has also deterred long time fans. 
According to Steven Edelstone from Paste Magazine,"But JESUS IS KING is a legitimately boring record, never reaching any high higher than simply, 'I guess this isn't bad.' And for all of Kanye's misfires over the years, he's never sounded as uninteresting as he does here."
Edelstone's criticism takes a hit at the content within the album. Although, it mainly focuses on his fundamental issues with West's character. Edelstone believes that West's new belief is superficial.
In Galatians 1:10 scripture states, "For am I now seeking the approval of man, or of God? Or am I trying to please man? If I were still trying to please man, I would not be a servant of Christ."
In the past West would have rebutted Edeltone's criticism. Although, with his new faith he is called not to please man, but to serve God. As a Christian may this be a testament not only to West but to all.
Philippians 2:10-11 perfectly sums up the work He is doing in Kanye. "so that at the name of Jesus every knee should bow, in heaven and on earth and under the earth, and every tongue confess that Jesus Christ is Lord, to the glory of God the Father."
God is moving everyday and his album is a testimony to that.
About the Writer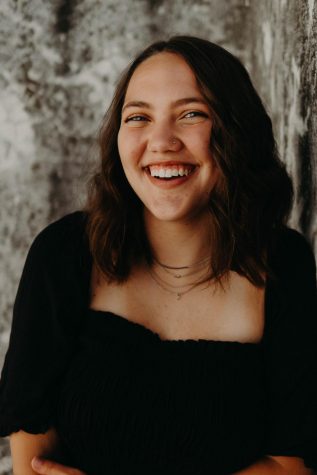 Mila Skrivan, Content Editor-In-Chief
My name is Mila Skrivan and I am the Content Editor-In-Chief. This is my second year on the Storm Alert Staff.