f(RAT) House
American media depicting the college experience is filled with the seemingly glamorous lifestyle of greek life. The reality? Not as attractive as it may seem. Pulling the curtain back reveals the dark aspects of these sisterhoods and brotherhoods, painting a very different picture than mass media may suggest.
Today there are over 9 million members of fraternities and sororities in North America. Upon recruitment, many advertise the benefits of greek life: companionship, philanthropy, and even academic betterment. While it is true that Greek chapters raise significant amounts of money towards charity, a recent study from Miami University contradicts the idea of academic improvement. Their study suggests that those who joined fraternities graduated with a lower Grade Point Average than their first semester compared to those who never joined Greek life. It even showed that those who dropped out of a fraternity saw increases in the GPAs.
Even further, the culture surrounding Greek life is one of toxicity. Male members of fraternities are three times more likely to commit sexual violence, as well as 25% of sorority members surveyed report being sexually assaulted. The environment of fraternities fosters these situations, with these horrible acts becoming the norm.
We can see these statistics proven in real life, with the recent sexual assault allegations at the Fiji chapter at University of Nebraska – Lincoln. This specific chapter of the Fiji fraternity has a long and horrible history of sexual harassment. On August 24th of this year, an alleged rape occured at off campus Fiji housing. The victim was 17 years old, and the alleged perpetrator was a 19 year old Fiji fraternity member. In outrage, hundreds of UNL students gathered to protest outside of the Fiji house, demanding the chapter be suspended and for this horrible aspect of Greek life to cease to exist.
The fraternity culture can lead to dangerous roads. Greek life should be a place for sisterhood and brotherhood, not a place of violence. Changing the culture is vital to the longevity of these institutions in the future. Facilitate change, don't just wish for it.
National Institute of Justice: https://nij.ojp.gov/topics/articles/factors-increase-sexual-assault-risk
Is Campus Rape Primarily a Serial or One-Time Problem? Evidence From a Multicampus Study: https://www.jimhopper.com/pdf/foubert_2019.pdf
Business Insider: https://www.businessinsider.com/fraternity-sorority-rush-gpa-greek-life-income-earning-potential-2018-10
Leave a Comment
About the Contributor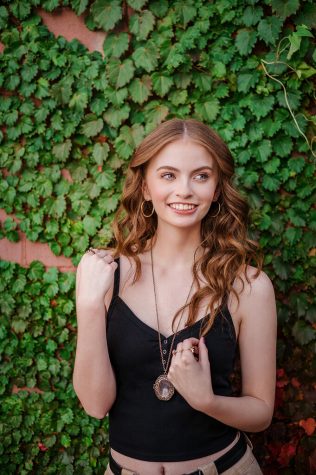 Emma LeDent, Web Editor
Hello! My name is Emma LeDent, and I am a Senior. I am a columnist and the Web Editor, and this is my third year on the Storm Alert staff!