SOCA: A New Group Making a Big Difference
Elkhorn South High School has dozens of clubs all designated to make the community a better place. This year a new club was added to that collection. Students of Color Alliance, otherwise known as SOCA was started by junior Kasih Davis, initially as a safe space for students to meet and express their cultures while feeling loved and comfortable.  
"Moving to Nebraska and going to Elkhorn South was a complete culture shock to me. I am a pretty open and outgoing person, however when I first started going to school, I didn't feel comfortable with my surroundings. Elkhorn South is almost 95% white. I started this group because I knew if I was feeling uncomfortable, the other 5% of minorities must have as well," states Davis.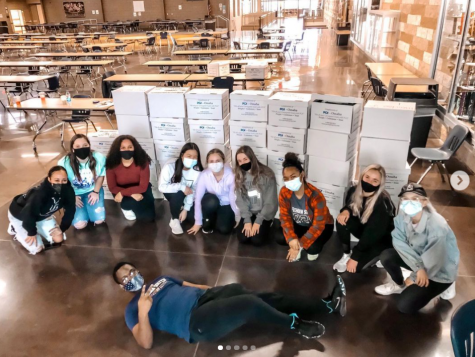 Hazel Chong, a sophomore is also an active leader of the group. As vice president, she aims to inform others about her experiences with race and help others learn about racial issues in our current society.
"We really want to shed light on this topic, and we hope to bring change to our school and community!" says Chong.
Not only have Davis and Chong dedicated themselves to teaching our community, but they have also worked to give back as well. On January 20th, SOCA decided to host a clothing drive in honor of Martin Luther King Jr. Day. The group dedicated their day off from school and sorted the clothing donations they received into bins to later give to the nonprofit organization "Urban Butterfly."
"Martin Luther King Jr. expressed how important it was to get together and give back to the community. Our club wanted to honor Martin Luther King Jr. by giving to the less fortunate," Davis says. 
Since the clothing drive, the group has continued to raise awareness regarding racial dif
ferences in our society. This month, National Black History Month, the club has teamed up with the Gay Straight Alliance Club to create posters about significant black leaders in America's history. They have several presentations planned, including ones from members of the group and even a few guest speakers. 
"I'll be giving a presentation on Chinese New Year and racism towards Eastern Asians, and we also hope to do more membership events soon," states Chong.
Davis and Chong have had the support of many people including family members and friends, who have boosted confidence and created ideas for group activities. They have also received the backing of several teachers in the school including Mrs. Peitzmeier and Mr. Kalvoda. 
"Mr. Kalvoda has been super supportive in letting us create this group! We started off with 5 or so people, got ideas off of each other, made sweatshirt designs, and invited all of our friends. I am proud to say that we are now at more than 37 members!" Chong exclaims as she describes the group's growth over the past couple months.
While some clubs have a deadline to join, SOCA is open to new members all year long. Stop by room E139 every Friday after school and don't forget to follow the SOCA instagram (@eshs_soca) for updates and upcoming events! 
Leave a Comment