Falling for Good Eats
Every year when the leaves start to change color, and sweaters start to be spotted in the hallways, I get excited for Trader Joes' fall foods to make their debut. Don't get me wrong, I love Trader Joe's all year round, but the store during the fall season has a special place in my heart. This year I tried 4 popular pumpkin spice items from Trader Joe's, and reviewed them below. 
Pumpkin Spice Cookies: I have always been a fan of pumpkin spice, and what better way to indulge in the flavor, than by munching on these shortbread cookies filled with fall spices. These cookies had just the right amount of sweet and savory, and the pumpkin spices were not overwhelming. They reminded me of a fall version of frosted animal crackers. 10/10
Pecan Pumpkin Oatmeal: Normally, I love a warm bowl of oatmeal on a chilly fall morning, so I decided to try Trader Joe's latest oatmeal flavor. I would have to say that I was a little disappointed by this oatmeal. It was definitely warm and comforting, but it tasted more like soup than oatmeal. The aftertaste wasn't great, and the pumpkin tasted a little artificial. 5/10
Pumpkin Spice Batons: I am always up for fun snack items, so when I saw these pumpkin spice batons, I was excited. Their flaky cookie crust with a filling that resembled pumpkin pie would be perfect to dip in a warm cup of hot chocolate or coffee. I found myself snacking on these more than i'd like to admit! 9/10
Pumpkin Pancake and Waffle Mix: Breakfast foods are my absolute favorite, and the pancakes I made with this mix did not disappoint! The pancakes were soft, fluffy, and filled with just the right amount of fall spices. A traditional pumpkin flavor was present in every bite, and maple syrup made each forkful 1000x better! Chocolate chips would be a great addition to this pancake and waffle mix! 11/10
If you haven't stopped reading this article and hopped in your car to go to Trader Joe's yet, what are you waiting for?! While the Pecan Oatmeal was not the best, The Pumpkin Spice Cookies, Pumpkin Spice Batons, and Pumpkin Pancake/ Waffle Mix were the perfect foods to welcome fall with. Each bite was flavorful, unique, and put a smile on my face.
About the Writer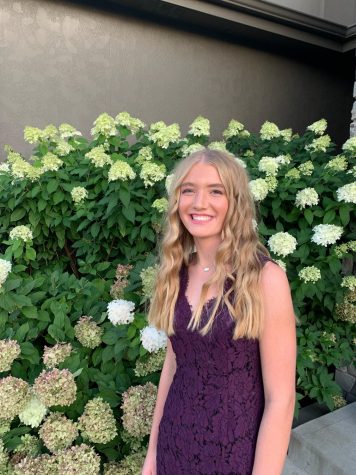 Ellie Adamson, Reporter
Hi! My name is Ellie Adamson. I'm a Junior, and this is my first year being part of the Storm Alert Staff!