Serious about Swimming
Swimming's not hard. All you do is swim. There's no takedowns, physical contact or brawls.  Many people don't see just how hard swimming actually is. 60 laps in a pool and all you have to prove for it is aching muscles and a mere mile.
 In high school, practices are demanding. Monday through Saturday, swimmers participate in two hour after school practices and Mondays, Wednesdays, and Fridays swimmers lift. Even on meet days, swimmers have practice before school and race in their meet later on that same day.
"Swimming is a genuinely really hard sport and I think that's what most people don't see," says Senior Paige Hunt. "Some people think we just like mess around for two hours a day but in reality our coach is just kicking our butts every single day."
 Hunt trains all year long, swimming for school and the Aquatic Club of Elkhorn. Ever since she was ten, Hunt has been in the pool, training, racing, and growing to love the sport as well as the team.
With such a difficult and trying sport, the team is everything. Support and positivity make the team what it is.
"The team's really supportive. We're like a family and we're constantly there for each other during highs and lows. That's my favorite part. It's the support system," Hunt said.
Elkhorn South and Elkhorn high swimmers join together to form the Storming Antlers, something no other school sport does.
"Being able to learn more about [our differences], I think it brings us closer together instead of driving us apart," Hunt said. "I'm not butting heads with my teammates because they go to Elkhorn High, I genuinely still support them in the same way I support everyone at Elkhorn South," Hunt said.
Hunt's hard work has payed off. She made it to a national diversity select camp and also holds two school records and is hoping to challenge even more this year.
"I'm trying for the 100 breast and 2im to make it there. Overall we're trying for second this year which would be the highest the team has ever gotten on the girls or the boys side," Hunt said.
The sport has so much to offer and the hard work can create long lasting bonds. In the end, swimming teaches you about yourself.
"Every race is my own race so I focus on what I can do to make it better not what other people do," Hunt said.
About the Writer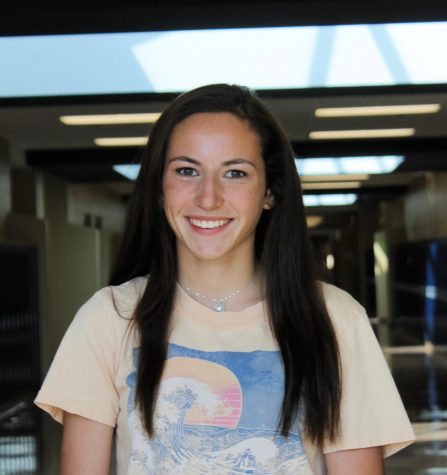 Ally Schilmoeller, Senior Design Editor
My name is Ally Schilmoeller and I am a Senior Design Editor. This is my third year on the Storm Alert staff!