We've got ears, say cheers!
Elkhorn South's Cheer Team just got a uniform update including two sequined ears and a sparkling bow. Mickey ears were vital attire for the navy and gold. The road to Disney is a right of passage most cheerleading teams take part in high school, and this year was our school's first.
On February 6th, our ESHS cheerleading team set on their trek to Nationals: something that has been overdue for many of the girls. With the 2020 Nationals being the team's first ever time competing in Orlando, Florida, tons of preparations and adjustments had to be made. 
"For the Nationals, we practiced a ton. We all began to take practices very seriously because we knew that there was a lot we had to do to prepare. Tumbling and working on various parts of the routine outside of practices was important in order to better ourselves and our routine as a whole," senior captain Ellee Betz said. 
ESHS has two different cheerleading teams: Gameday and Competition. Gameday is strictly cheer for games and events while competition does games, events, and, obviously, competes. Practices each week consist of Gameday on Mondays, tumbling on Tuesdays for Competition, and full practices on Wednesdays for everyone. On top of that Thursdays, Fridays, and Saturdays consist of reporting to cheer at assigned games, and Sundays are competition. Year round. Although no practices were necessarily added, the ESHS cheer team put more into their sport than ever before to get ready for their biggest competition yet. 
"To prepare we all worked harder and pushed each other as individuals and on our individual skills. We all gained new skills at tumbling practice and we cleaned every part of our routine," junior Anna Zingler said.
"My thing is I want the girls to love cheer and not get burnt out, so I try to not add too much on their plates," Coach Blythe said. 
Cheer Nationals held at Disney World each year is a coveted competition all cheerleaders strive to get to. 2020 was the first year ESHS Cheer attended. 
"The girls proved to us last year that they were ready to go this year. Nationals is too much for a brand new team to be ready," Coach Blythe said. 
Ultimately, going to Nationals was a call Coach Blythe and Coach Logue had to make based off of the team's performance throughout the entire year. 
"We kind of viewed getting to that next step of going to Nationals as like 'what will motivate them to get this team back to what it looked like?' " Coach Blythe said. 
Back in the 2014-15 season, skill for the ESHS team was at its peak. However, Coach Blythe and Coach Logue saw the spark and determination this year with the team, so off they were to Nationals. 
Coach Blythe has been leading the ESHS Cheer team for 10 years now and cheer has been a part of her life for a long time. Without even knowing her, the passion Coach Blythe holds for cheerleading is apparent. 
"I'm just so proud of the girls. It's my passion. When I see them out on that floor and they're doing what we worked so hard to do it's amazing to just see everything because they give so much, they work so hard, and for little recognition. So it's cool to see how hard they work for themselves. It's just the team," Coach Blythe said.
At our school, and in our community and state in general, cheerleading is not as recognized compared to many other states like the south for example. Even high school cheerleaders sometimes feel this neglect. 
"You have to be positive and you have to keep pushing or else the culture isn't going to change. We've just got to kill them with kindness and keep doing our job," Coach Blythe said. 
Before Nationals, many changes had to be made regarding sickness, injuries, and skill level, however, ESHS Cheer was ready for the unexpected.
"The hardest part of preparing for Nationals was not knowing what to expect. I had no clue what the other teams were capable of," freshman Tatum Beacom said. 
"It was our first year going, so we were unsure of what our competitors would be like because they are from all over the United States," Betz said.
At competition, ESHS Cheer placed 12th out of 16 teams from Alabama, Kentucky, Indiana, and Ohio in the Small Varsity Tumbling Non-Building Section. They earned a score of 72.4 out of 100 with zero deductions. 
" Nobody touched down or fell out. Everyone stuck it. We dumbed down our routine so that we could stick it. That is something that we learned that maybe isn't the common trend. A lot of teams did higher level tumbling but they didn't land them. I never want that to be us. I want to be the team that sticks it, but we now need to up our difficulty because that's where our points were taken away," Coach Blythe said. 
For their first time competing and Nationals, overall, the team accomplished what they came to do. 
"The competition itself was nerve-wracking because there were tons of people in an arena, which is something we usually only experience at state. The atmosphere was different at Nationals because you know you are going against some of the best teams in the country," Betz said. 
The team reached their goal of experiencing and competing at Nationals, however, much more came from their five day trip to Disney. 
"Nationals created this amazing motivating push just as I had hoped. That's what I wanted to use nationals for as a big motivator, and it worked beyond what I could have hoped for," Coach Blythe said. 
The experience and drive wasn't the only thing ESHS Cheer brought back with them from Orlando. 
"Nationals changed so many of the girls' attitudes. Their togetherness is amazing. It was an amazing bonding experience.They rely on each other, they motivate each other, it was really amazing to see," Coach Blythe said. 
"The best thing I took away from Nationals was how much closer the team got while spending so much time together. Also, we got a glimpse of what to expect and work harder for next year," Beacom said. 
Now, ESHS Cheer is already starting to prepare for next year's Nationals. With experience under their belt, the team is ready for more competition. 
"What I look forward to most for next year is to improve our routine and make our team closer. There are many improvements we can make and now we know what to expect," Zingler said. 
Without hesitation, The Cheerleading National Competition of 2020 changed ESHS Cheerleading forever. 
"Nationals truly brought us all together," Betz said. "This was something we had worked for all season, so getting to see everyone go out on the mat and not leave anything behind was an amazing feeling."
Leave a Comment
About the Contributor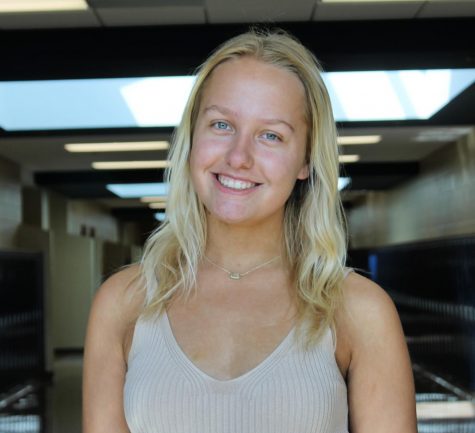 Sarah Shatel, Senior Web Editor
Hello! My name is Sarah Shatel, and I am the Senior Web Editor! This is my third year on the Storm Alert Staff!