No fame in their game
H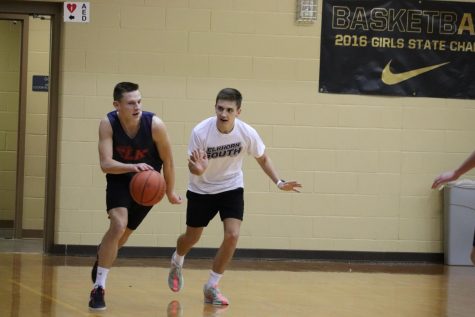 arry McDonald is an unknown all-star basketball player that attends Elkhorn South. This is because he plays on the intramural basketball team that play once a week on Wednesday nights he plays with some of his friends against other teams that are composed of other students.
The games work by 3v3 format and 10 minute games. This makes the games fast paced so people are back and forward on scoring. Teams usually play one and wait one with breaks in between each match so there is plenty of time for water breaks.
Sophomore Harry McDonald has been waiting all year for intramurals to start up again because he was excited to put his team on his back.
"I drop at least 30 points a game," McDonald said.
Other participants value the chance to compete without having to commit to a full NSAA season.
"I get to play with my friends and can shoot all the 3's I want without coaches getting mad," senior Mason Suey said.
Harry finds it hard to be humble because he believes the league needs more competition so he wants more people to go out for intramurals.
"I just think that more people means more competition and I love competition," McDonald said.
There are many reasons that even the "average joe" at Elkhorn South can make an intramural basketball team.
"It's really easy to get started all you need to do is get a couple of friends and sign up. Even if you haven't played basketball you might get good and really enjoy it," McDonald said.
Extracurriculars are a very fun way to engage yourself at school in a different way the one normally thinks. Intramural basketball is one great option.
"The way it is formatted makes it competitive but still fun so you are not losing to some kid that was playing basketball since he came out of the womb," McDonald said.
Students can get in multiple games each intramural session.
"It gets very intense," Suey said. "Everyone plays it like a real game and wants to win."