Education Expansion
Hang on for a minute...we're trying to find some more stories you might like.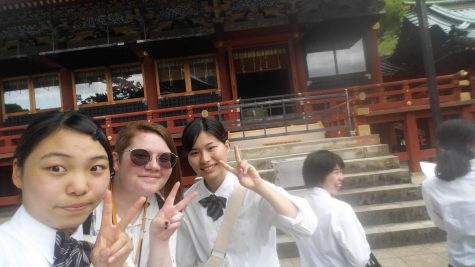 With the recent jump of popularity of K-pop groups and Asian food in America, more and more people are becoming aware of Asian culture. The Japanese club already appreciates these trends.
The Japanese students stay busy by visiting Elkhorn Ridge and Valley View Middle schools twice a year. The Japanese 3 and AP students talk about the Japanese classes and club as well as their trip to Japan. While at the middle school they teach the students some basic phrases in Japanese. Some of the foreign exchange students talk about living in Japan and the differences they have noticed since coming to America. Senior Alisa Costello recalls how some of the questions the students asked made it obvious that they had not learned much about other cultures.
"The biggest impact .is just getting the students exposed to other cultures. You don't have to love it, eat, sleep, breathe it, but just general basic information about it. Which is what we try to do," Costello said.
Another AP Japanese student, senior Sarah Minturn, expressed the importance of schools educating students about modern culture of other countries besides America.
"As much as America is supposed to be a melting pot or like a salad, it's not. If you're something that's not white, then no one knows about your culture. We're not taught about others cultures, we are just taught what's in the history books…I think us going to the school to talk to the kids is a good way for them to learn about a different culture," Senior Minturn said.
The Elkhorn South students usually combine with the Elkhorn High kids when they have events. They plan activities and create an open, fun spirited group to hang out with.
"We try to get all the people who are interested in Japanese culture and language to join and we usually try to do things like movie nights or just more current ways to know and understand the culture of Japan," Costello said.
Minturn became interested in the culture when her friend showed her anime. She then decided to use South's language program to her benefit.
"That's usually what most students do, they are interested in anime, food, or the culture and they want to join," Costello said.
Costello's father was serving overseas and her mother lived in Japan. They meet each other at a noodle stand and eventually moved to America. Her family still follows some Japanese traditions and holidays. On her trip to Japan, she noticed the main difference was the proportion sizes. The food and drink sizes were much smaller and there was no free refills. She also noticed how people would look at her oddly because she is half Japanese but was with a group of white people.
"I never knew whether to speak in English or Japanese because they looked at me and I'm Asian obviously, but when I went I was surrounded by obviously white people, so I always had to choose for them which language to speak in," Costello said.
Sarah Minturn who went on the school trip to Japan this past June mentioned how kind everyone was to her in Japan and how she found a lot of stuff she liked there.
"They don't have food vending machines, but drink vending machines are literally on every corner; more than every corner. You will never go thirsty in Japan. Maybe hungry but never thirsty… They know their hospitality, they are very nice to you no matter what. Sometimes almost too nice, although I did notice that they will stare at you," Minturn said.
Minturn is very involved in the Japanese department and is open to sharing her love of the culture and her experiences in Japan.
"I enjoy learning about the difference of cultures and I think others would enjoy learning about them to," Minturn said.