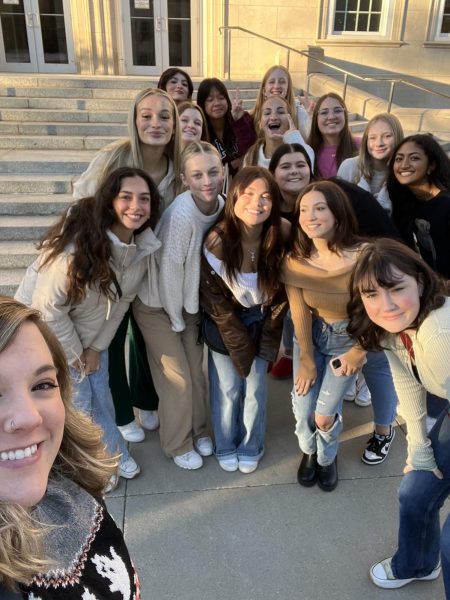 On the chilly morning of October 17, yearbook and newspaper students loaded onto a bus bound for The Union Building at the University of Nebraska-Lincoln campus. The purpose was to attend the Nebraska High School Press Association Fall Convention (NHSPA). At this conference yearbook and newspaper representatives from across the state gathered together to expand on their blossoming journalism skills. Lecture topics included developing ideas, photography, aspects of photography, designing spreads, and the very basis of writing different pieces. There are countless insightful speakers who inspired us all to pursue journalism at the next level and branch out of our comfort level of skills.
Not only did this conference serve an educational purpose, but it also proved spectacular for team bonding. A big group of newspaper girls, myself included, all went out to lunch together. We decided on Vincenzo's Ristorante, and it did not disappoint! More importantly, all of us eating together proved to be a great place to spark team bonding. It was so nice to just sit down and talk and laugh with this group over some delicious Italian food. I learned so much about my classmates and really enjoyed this part of the overall experience.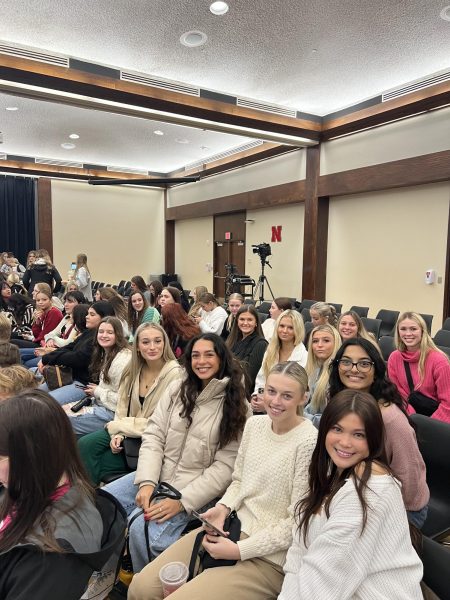 There were countless lectures that we went to, all of which were fairly interesting and engaging. My personal favorite lecture was one about sports photography. The time slot consisted of a photography teacher at UNL teaching us tips and tricks for how to capture the best and brightest sports moments. Not only this but he would also take us through the best sports photos of all time and discuss what went into taking the photo and the moment that dated it. I never knew so much thought and commitment went into developing sports photos. I also had the privilege of talking to other student attendants of this conference on their favorite activities. One of them was sophomore Anna Shatel, a member of the Yearbook Staff.
"My favorite lecture was called Infographic Magic. I learned many valuable aspects about incorporating infographics into our yearbook. Yeah, it may sound boring, but it was actually really interesting," Shatel said. 
No matter who you ask, the NHSPA was a thrilling experience. I am so glad I got this opportunity to expand on my journalistic abilities and relationships with the others on Newspaper Staff. If you are part of Elkhorn South's newspaper or yearbook staff, I urge you to make a point of attending this event next year, and I know others would do the same as well. My fellow peer sophomore Ellen Bode had a few words she shared with me about her overall experience.  
"It was a great bonding experience and I loved getting to know all of the girls better. A truly special experience in itself," Bode said.