Best Blueberry Crumble Muffin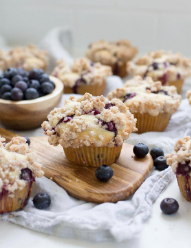 If you are looking for a fluffy, cake-like muffin recipe with a sweet crumble topping, then these Blueberry Crumble Muffins with fresh blueberries are just the recipe you are looking for. These muffins are a great way to start your day for breakfast, and or enjoy later for an afternoon snack. Follow this recipe & impress your friends and family with a sweet treat that they all are sure to love!
Ingredients:
For the Batter:
1 cup granulated sugar

½ cup milk

½ cup oil

1 large egg

1 teaspoon vanilla extract or vanilla bean paste

2 cups all-purpose flour

2 teaspoons baking powder

¼ teaspoon salt

2 cups fresh or frozen blueberries
For the Crumble:
½ cup granulated sugar

½ cup all purpose flour

3 tablespoons salted butter (softened)
Instructions:
Preheat the oven to 425 degrees.

In a medium sized bowl, stir together the sugar, milk, oil, egg, and vanilla. In a separate large bowl add together the flour, baking powder, and salt. Add the contents of the dry ingredients bowl to the medium sized bowl and stir until combined.

Add the blueberries and fold gently into the batter.

Line 12 muffin pan cups with liners & divide the batter evenly between 12 muffin cups.

Make the crumble mixture by combining flour, butter, and sugar in a small bowl. Don't over-mix this because it should have a crumbly texture to it. 

Divide the crumble between the 12 muffins and sprinkle on top of the batter.

Bake the muffins at 425 degrees for 5 minutes, and then without opening the oven turn the oven down to 325 degrees & bake for an additional 15-17 minutes. Once done baking insert a toothpick into the muffin to make sure it comes out clean & is fully baked through. Allow the muffins to cool on a wire rack.

Enjoy right away, or store in a room temperature airtight container for later!
Leave a Comment