In with the New
Elkhorn South Welcomes its New Librarian, Mrs. Kelsey Orr-Stevinson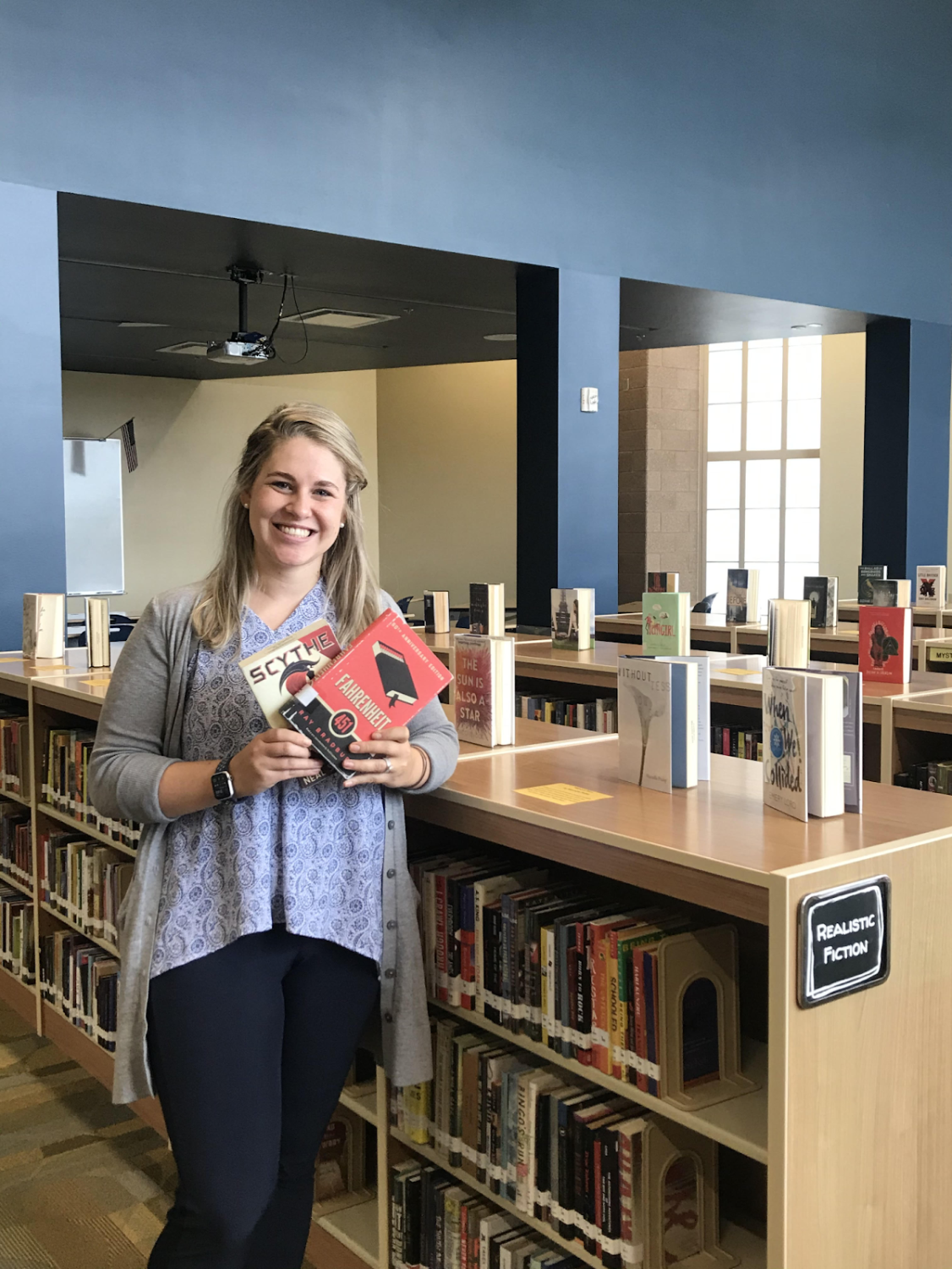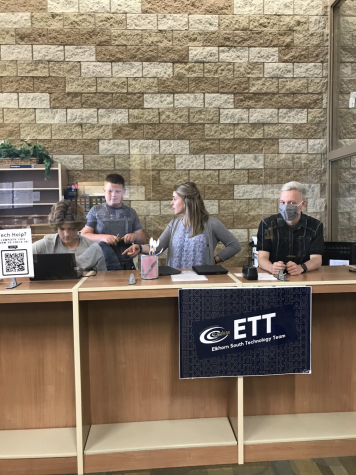 "Let's be real, Mrs. Fauss was terrible," former librarian and current business teacher Mrs. Jessica Fauss said. For new Elkhorn South librarian, Mrs. Kelsey Orr-Stevinson, her predecessor and mentor Mrs. Fauss believes that she is going to do great things at this job. Orr-Stevinson is excited to become a part of the Elkhorn South family.
Orr-Stevinson graduated with an Undergraduate Degree from Creighton University with a co-major of English and Secondary Education. She later went on to receive her Masters Degree from the University of Nebraska at Omaha with a Master of Secondary Education with an Endorsement in School Library and Instructional Technology Leadership. 
Before becoming a librarian, Orr-Stevinson was an English teacher at Central High School in the Omaha Public Schools District.
 She felt that being a librarian was a "natural extension of a lot of her interests in the English classroom," Orr-Stevinson said. Another great part of becoming a librarian for Orr-Stevinson is the ability to work with both students and teachers. 
The seed of being a librarian was planted in her head by her beloved high school English teacher who later turned into the school's librarian. It was solidified for her once she started her library classes for her Masters and was able to implement what she learned in those classes into her classroom, it just affirmed for her that becoming a librarian was where she wanted to move. 
For Orr-Stevinson, the best part of being a librarian is being able to be a resource for the students. "It is exciting for me to interact with students in an academic setting that is not specific to one subject area, " Orr-Stevinson said.
 It is fun for her to recommend books for one hour, but the next period is trying to help a student figure out chemistry nomenclature (that she has no expertise in), but she has the resources that help students figure it out.
Mrs. Orr-Stevinson has two all time favorite books. Her favorite classic is 'Fahrenheit 451' by Ray Bradbury that is read by all Honors English 9 students. She fell in love with this book while teaching it at Central High School. Her favorite Young Adult book is Scythe by Neal Schusterman. They are both unintentionally dystopian and speculative fiction. "I love this genre because it is all about the 'what if's,'" Orr-Stevinson said. Her favorite thing about dystopian fiction is that there are some elements that are so far-fetched there is no way they could ever be possible, but in other ways can relate to the real world. To Orr-Stevinson, the comparison between a far off universe and the world we will live in is really quite powerful. 
Her least favorite book is quite controversial, especially since it is coming from an ex-English teacher, but nonetheless she cannot stand it. For Mrs. Orr-Stevinson, it is hard to dislike books because if she can manage to finish it, then it must have some redeeming qualities, but she still has one that takes the cake as her least favorite. Orr-Stevinson is reluctant to share that her least favorite book is the classic, read by every junior in Elkhorn South, 'The Great Gatsby' by F. Scott Fitzgerald. "The writing is admittedly beautiful and the prose is out of this world, amazing, and one of a kind," Orr-Stevinson said. But she just cannot stand the characters. "They don't have real problems," and even if there is a point to that, she does not like it.
Orr-Stevinson has many favorite memories from her teaching days, but two of her favorites are very funny. "One time, a student showed up to school with a shoe box with a baby bunny in it that he had found on his way to school," Orr-Stevinson said. Mrs. Orr-Stevinson found that funny, but just a part of the job: you never quite know what is going to happen as a teacher. Another of her funniest memories from teaching was a week before the pandemic -"before the world shut down"- and she was teaching one of her junior English classes. That day in class, the students were doing research, so Orr-Stevinson spent some time meandering around the classroom and half way through, she "straight up fell in front of the whole class flat on my back." 
Mrs. Orr-Stevinson thinks her job as a librarian is special because everyday is different. She gets to help so many different people with so many different things. "The ability to have your place in so many different parts of education is awesome," Orr-Stevinson said, "the energy of Elkhorn South is so wonderful." It is affirming for her as someone new that students and teachers both love being at Elkhorn South. 
The best part of the job for Orr-Stevinson is getting to help students achieve their goals. Whether that is finding a book that is right for them and having them come back and tell her that they enjoyed it, or in general, helping them fix things: assignments. The technical team is also a great part of her job because she gets to help students problem solve to help other students. 
On the other hand, the worst part about the job for her is changing projector light bulbs. "It's doable, but not super fun," Orr-Stevinson said.
Mrs. Orr-Stevinson is happy to say that the library door is always open for any student or teacher that needs help. 
Leave a Comment