Super Bowl LV
On February 7, 2o21 the Kansas City Chiefs and the Tampa Bay Buccaneers went head to head for the 55th NFL's Super Bowl. 
Leading up to this game, there were many speculations on who would win due to the star quarterback mashup. There was a chance for Patrick Mahomes to lead the Chiefs into becoming back to back Super Bowl champions while there was also the possibility of Tom Brady winning his seventh Super Bowl with a new NFL team.
Ahead of kickoff, 108 0f ESPN's sports analysts weighed in on who they believed would be crowned champion. The team in favor – Kansas City Chiefs – boy were they wrong.
With the Chiefs favored 63 percent, myself being a diehard Andy Reid fan, went into Sunday night with a hopeful heart, only to come to my senses and have my heart crushed in the sec0nd quarter when reality struck.
Don't be mistaken, Patrick Mahomes played his heart out. While having to run for his life most of the game, Mahomes still managed to get in a few incredible snaps, leaving many viewers in awe. A cameraman was able to catch some of Tampa Bay's wide receivers in dismay over some of Mahomes incredible throws. Mike Martin stated on the sideline, "Mahomes is unbelievable," with Chris Godwin chiming in, "He's a magician…I don't know how he does it."
However, one cannot deny that the Bucks defensive line is a force to be reckoned with. Pressuring Mahomes a Super Bowl record of 29 times, the Buck's defense forced Mahomes to run the ball, and complete only 26 out of 49 of his passes.
Star quarterback Tom Brady, showing off his talent in the first half, led his team to securing three touchdowns. The Bucks ended the second quarter ahead, 21-6, leaving the Kansas City Chiefs to play catch up.
Half time only made it worse for agitated fans, with the Weekend and his crew of dancers wearing the equivalent of jock straps over their faces giving an unusual performance to say the least.
Third Quarter sealed the deal for the Bucks being crowned victory, with the Buccaneers securing yet another touchdown in addition to a field goal, ending the quarter 31-6.
One fan in the crowd chose to lighten the mood in the fourth quarter, by interrupting the game and streaking across the field in nothing but a questionable one-piece. He was inevitably tackled by security and dragged off the field.
Ending the game 31-9, after the Chiefs managed to score another field goal late in the fourth quarter, the Tampa Bay Buccaneers went on to celebrate their second ever Super Bowl victory.
Mahomes managed to shake off his loss and give credit where credit is deserved, stating, "They were the better team today." He then went on to say, "They beat us pretty good, the worst I think I've been beat in a long time."
Leave a Comment
About the Writer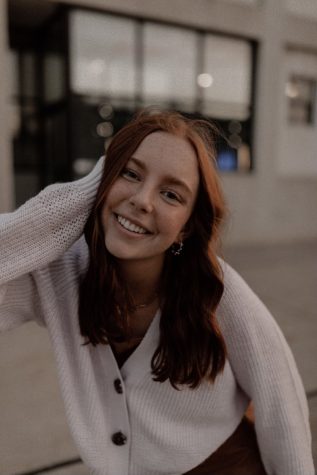 Chloe Gregg, Social Media Editor
Hi! My name is Chloe Gregg, and I am a Senior. I am a columnist, and this is my second year on the Storm Alert staff!