Blackouts Rolling in
State wide rolling blackouts by OPPD add to the stress of winter weather
Valentine's Day weekend brought some of the coldest temperatures on record for Omaha and surrounding cities. Not only were people across the state plagued with wind chills below -30 degrees, but Omaha Public Power District, the sole power provider for Omaha, added to the stress of the season by implementing controlled outages, or "rolling blackouts", across the metro area. 
The power outages started in the Bellevue area Monday morning and made their way across town through Tuesday evening; some even continuing into Wednesday.
This event is noticeably unprecedented, too, as OPPD has not had to use them in past winters to keep up with customer demand on electricity. As a part of the Southwest Power Pool (SPP), OPPD was one of many electrical providers across 17 states in the midwest to issue power outages for their customers as a way to conserve energy during this time of high demand. 
What exactly are rolling blackouts? These controlled disablements of power cut off electricity from homes and facilities in a certain area, usually on the same grid system, for a period of time. This can range anywhere between 30 minutes to an hour, but maybe longer. During this time, heat, lighting, water, and other functions in the building powered by the electricity are unable to be used, which can be problematic with sub freezing temperatures outside. 
Although they may be helpful in conserving energy, there are other consequences that come from cutting power to houses. One of the most common in the past few days is water pipes and lines freezing and breaking, leading to flooding in houses and loss of water access. 
"I was asleep when it happened, but my dad found the water when he went to let my dog out," sophomore reporter Kate Shatel said. 
Shatel's family had a pipe break in their basement, leaving water to be dealt with. Luckily, damage was not extensive and repair was quick. 
In addition to the blackouts, power providers issued statements asking their customers to limit power usage by unplugging small appliances, turning down their thermostat 3 degrees to conserve heat energy, and switch off unused lights. 
The peak of the blackout was around 9 am on Tuesday with nearly 34,300 OPPD customers left powerless; a total of 73,00 were impacted by Tuesday night. Possibilities of more outages were up in the air continuing into Wednesday afternoon. 
Leave a Comment
About the Contributor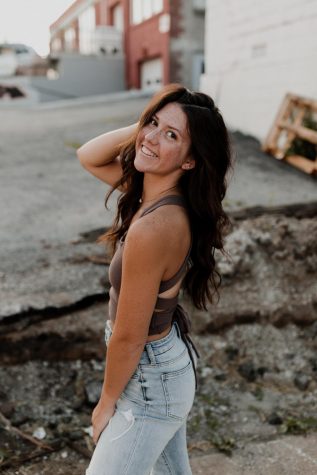 Cambri Rolfes, Design Editor-In-Chief
Hi! My name is Cambri Rolfes. I am a columnist and Design Editor-In-Chief and this is my second year on staff!