Southern Symphony
Russel Dickerson's sophomore album is just what 2020 needed
Russel Dickerson released his second studio album on December 4, 2020. The singer broke into the spotlight after his certified double platinum single, "Yours", in 2017, and did not disappoint his fans and the greater audience with his record drop. He pours his heart and life into the lyrics, and it is evident as mentions of his wife and son, four month old Remington, appear in multiple tracks. 
Dickerson released the first single off of the album, "Love You Like I Used To", on February 11 of this year and it only fueled the excitement of his album. The single led the album as it was released to country radio on March 2, and he performed it on Ellen on December 1. The next single off of the album, "Home Sweet", was released over the summer on June 26. The biggest surprise of this song was the first lyrical mention of his wife's pregnancy, which was publicly announced in People Magazine on April 10. These first two singles were not only lovingly written about his wife, Kailey, of 7 years.
Two months prior to the album's release, Dickerson dropped his final single, "Never Get Old", which he had been previewing at concerts since summer of 2019. 
Southern Symphony was finally released on December 4 with Dickerson's livestream "red carpet" from his home to celebrate the album. Remington even made his first, unofficial, red carpet appearance. 
Along with the three pre-released singles, the album features seven new songs, including the title track "Southern Symphony". A solid 10/10 song describing the nostalgic hometown feeling of his upbringing in Georgia. 
Dickerson never gets tired of singing about his happy marriage and that is made clear in "Come to Jesus" and "Honey" with classic contemporary country style. (Come to Jesus is my favorite so please go take a listen)
Florida Georgia Line joined Dickerson on "It's About Time", an up beat, classic party song all about the end-of-the-week attitude commonly shared in country music. The relationship between the two artists is not strictly professional, though, as the Dickerson's are very close friends with Tyler Hubbard of FGL, and his wife. The couples shared on instagram that they, safely, continued their annual holiday tradition of caroling in their neighborhoods in Nashville along with Thomas Rhett and his wife, Lauren. 
The final three songs on the album, "Waiting For You", "All Yours, All Night", and "Forever For a Little While", are classic representations of Dickerson's style, that he consistently upholds in all of his releases throughout his career. "All Yous, All Night" is stylistically similar to the track off his first album "All Fall Down", as a more romantic love song. 
As a smaller artist of the country genre, Dickerson's album does not gain as much traction as Luke Combs or Thomas Rhett, but with two of his singles breaking the top 50 on Billboard's Hot 100 in early to mid November. 
Between renovating and moving into he and his wife's dream house in the woods, the welcoming of his first child, and  the release of his second studio album, Dickerson has made the most of his time in 2020. Nothing is stopping him as his success only continues to rise in the world of country music. 
Leave a Comment
About the Contributor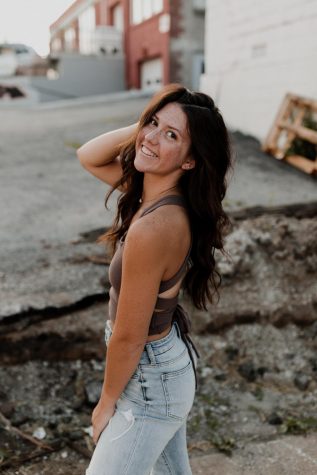 Cambri Rolfes, Design Editor-In-Chief
Hi! My name is Cambri Rolfes. I am a columnist and Design Editor-In-Chief and this is my second year on staff!