Clothes that Pop!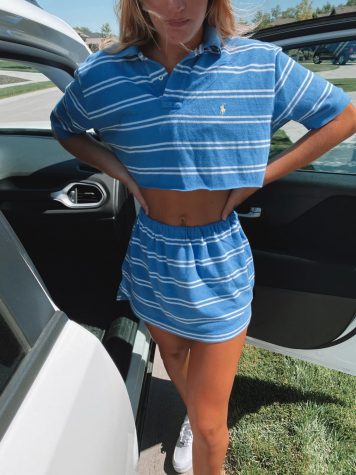 Katie Galligan is all too familiar with the sound of her sewing machine whirring along as her mind comes up with creative idea after creative idea. The junior at Elkhorn South runs her own business on Instagram, selling matching skirts and crop top sets that she makes. Instagram is a great platform for her to launch her business on, and allows not only her peers at Elkhorn South, but girls around the Omaha area to catch a glimpse of her creations.
"
"I saw the idea on Pinterest and decided to try to make it. Once I did, a friend said I should sell them, and so I did,"
— Katie Galligan
Katie's business is centered around turning old things into new gems. She finds gently used mens polos at thrift stores around Omaha, and then cuts the shirts in half. The top half of the shirt is made into a crop top, while the bottom is turned into a matching skirt.
"I saw the idea on Pinterest and decided to try to make it. Once I did, a friend said I should sell them, and so I did," Katie says.
While Pinterest may have been Katie's original inspiration, she now finds ideas all around her. Despite her clothing sets being extremely popular with her friends at Elkhorn South, Katie isn't interested in continuing her business as she gets older.
"I think I want to keep it pretty small, just as something on the side. I don't think I would want to own a clothing company as an adult," says Katie.
For now, she is focused on the present, but she has been surrounded by fashion for quite a while. Katie used to model for Develop Model Management, but she has set that pastime aside to focus on volleyball which she plays both for the school and for Nebraska Elite. Even though Katie is in the thick of Junior year, and playing volleyball constantly after school, she still is able to find time to create clothes.
"Most of the time I find a day that I have pretty open and I make the set in one sitting," Katie says.
Trying to juggle all of her extracurricular activities, with the never ending battle with homework, has allowed Katie to learn some valuable lessons. The life lessons that come along with running a small Instagram business at age 16, are some of the most important things that Katie can take along with her into her future.
Katie says that "Time management and how to advertise are two valuable lessons in the business world".


Katie will be able to apply these lessons to whatever great things she accomplishes in her future. As of now, Katie appreciates all of the advertising her business can get. She uses Instagram as the platform for her business. Her business account, _clothesbykatie , features some of the sets she has made, and has gained numerous followers in the few months that it has been up.
Clothing accounts on Instagram have recently been popping up more and more often, but Katie's stands out because of the fact that she is recycling old clothes and showing people that old things should not always be forgotten.
Leave a Comment
About the Contributor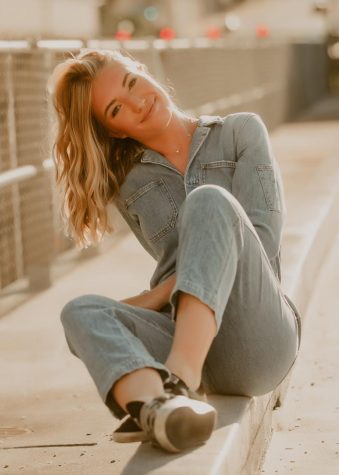 Ellie Adamson, Design Editor
Hi! My name is Ellie Adamson. I'm a Senior, and this is my second year being part of the Storm Alert Staff!