Storm Alert Volume X Issue IV
The Storm Alert Time Machine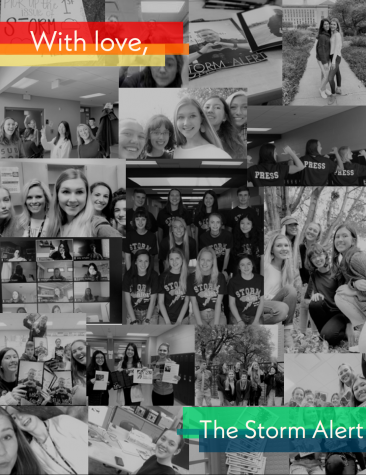 Hello Elkhorn South Students, Staff and Families,
I hope this email finds you well. When the closure began in March the Storm Alert made it our goal to continue reporting on ESHS News and to put out Volume X Issue IV no matter what. Our incredibly supportive administration and EPS Tech Team was able to get computers to our design editors, Calli, Ally, and their understudy's, Mila and Cambri so they could continue to utilize the adobe suite in designing our magazine and as always, these students did a spectacular job in pulling it off. 
This issue is a special edition near and dear to our hearts; we initially brainstormed this in January — that's how excited we were about putting this concept into print! Although things are different in quarantine, the Storm Alert Staff wanted to remain consistent in putting out a magazine making sure to get it into the hands of our staff and students. Though it looks a little different this time around, if you follow the link, you will be able to flip through Volume X Issue IV of the Storm Alert Magazine. Take a trip down memory lane with us, as we highlight and examine newsworthy stories that continue in the world of Elkhorn South today. 
Without further adieu I am more than happy to present to you:
Stay safe & happy reading.
Sincerely,
Abbey Miller- The Storm Alert Adviser
Kate Aksyonov & Sarah Shatel – Content Editors, Calli Gregory & Ally Schilmoeller – Design Editors
And our diligent student reporters: Michaela Kilpatrick, Emma LeDent, Nora Rai, Cambri Rolfes, Joey Schafer, Mila Skrivan, and MacKenzie Wheatley.