All-Stars Go to All-Nations
Seniors Henry Tomsu and Julia Patterson selected for a prestigious nationwide music ensemble.
Elkhorn South recently sent two students, seniors Henry Tomsu and Julia Patterson, to the All National Honors Ensembles, a prestigious event that focuses on music education. Students that have been selected for All State have the ability to audition for this ensemble. Tomsu and Patterson successfully auditioned and had the opportunity to travel to Orlando, Florida.
"We played a variety of genres from alternate rock, pop, to even jazz-hip hop," Tomsu said, "It was super cool to be a part of, as this was the first ensemble of it's kind to perform at a national level in America." 
Tomsu has been playing all sorts of instruments since middle school. Tomsu started off with saxophone in the 6th grade, then moved onto electric bass, drums, guitar, piano, upright bass, and other winds. 
"I was originally inspired to do music when my dad played me his old CD's in the car when I was young. Years later, I decided to pick up the bass so I could play along to my favorite metal songs," Tomsu said, "Little did I know that it would become a possible career path for me."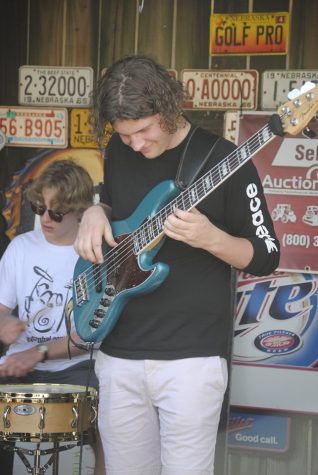 Tomsu is planning on pursuing music as a career, and he's been picking up a numerous amount of instruments and skills. This includes learning how to write and produce music. 
"This way, I have options in the future. I plan on working to be a performing bassist and producer, but you never know what new opportunities could rise in years to come." Tomsu said. 
Julia Patterson describes her time at the ensemble as a once-in-a-lifetime experience. 
"When I was at All-Nations I realized I was so similar to the people I met that I almost felt I'd known them for years." Patterson said. 
Patterson started music at a young age. In the first grade, she went to a choir camp, and then she started playing the violin, and then eventually the flute.
"I was probably the worst in my class until 6th grade, when we started true band, and I started really enjoying playing the flute," Patterson said. "I loved the feeling of being a small part of something greater." 
Patterson doesn't plan on pursuing music, however she hopes to still keep music in her life, whether that be playing in chamber ensembles or pit orchestras.
"Although I do love my instrument, my favorite part is the people. I love that across the United States, instrumental music attracts the same type of dedicated, passionate people." said Patterson.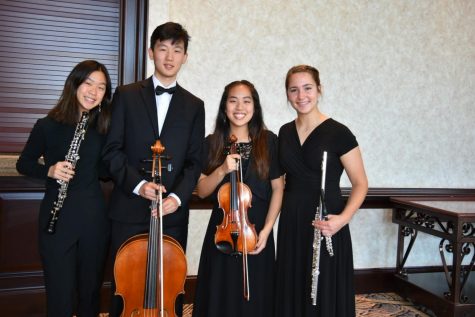 Both Tomsu and Patterson can agree that the best part about being a musician is the people you meet. 
"Playing with other people entails so much more than just making music. It lets me learn something from someone I would have never otherwise met in my life," said Tomsu. "Music brings people from all walks of life together, and judgement is left at the door when you walk into this diverse art form."