Here for a "gourd" time, not a long time; Students share why Vala's Pumpkin Patch is a top pick for fall
As fall comes to an end with the passing of Halloween and the start of November, there is one aspect of the season that those in the community can agree is a vital part of the time; Vala's Pumpkin Patch. The family owned entertainment has been a Midwest tradition for 35 years, and each brings on new and improved elements, and hundreds of people walk through the gate from the first day of fall to Halloween, but what kinds of people are visiting?
Although many make their annual trip or two to Vala's to keep traditions going and take a picture in the iconic oversize rocking chair, there are other very distinct categories that visitors can fall under; first timers and all-the-timers. 
Classified as a first timer, sophomore Alexis Dent visited the Nebraska staple for the first time this past Sunday as she joined her teammates for a cheer team bonding. 
"My first impression of Vala's was something from out of a Halloween movie. It reminded me of all the feelings that Halloween brings and it wrapped them up into a one-day experience," Dent said. 
Like many, one of the things that stuck out the most of Dent was the wide variety of choices to please all of the five senses as the trek through the nearly 400-acre property is enjoyed. 
"My favorite part of going was definitely the food. They had all of my seasonal favorites, and everywhere I stepped a new smell of freshly baked goods was in the air," Dent said,
Despite this being her first time at the unique attraction, she hasn't been missing out on fall and Halloween festivities until now. 
"Some of my favorite fall activities are watching horror movies and going to haunted houses. I love being scared and those get me into the Halloween spirit," Dent said. 
Particularly here, as close as we are to the pumpkin patch, it is hard to imagine not making the trip to Vala's every year, if not multiple times during its season, which spans a total of 49 days out of the year. 
"I haven't gone until this year because I haven't lived in Nebraska for too long," Dent said. "I moved to the state in eighth grade and I didn't know many people when I got here. Last year, the opportunity just didn't come up."
On the flip side, junior Natalie Thomas frequents the pumpkin patch throughout the season. Visiting anywhere from five to eight times a season, she has gotten used to the pumpkin patch being her fall second home. 
"I don't think I have a favorite part, I love it all. Everything is so fun and the environment makes me happy," Thomas said.
It is kind of crazy how much impact and support a single family-owned establishment can have on a community and the families that are a part of it.
"As we head into our 35th year of operation, we are proud to welcome a second generation of parents who remember visiting Vala's when they were children," the Vala's Pumpkin Patch website said. 
This is true for Natalie as she started going to Vala's when she was five years old, and has continued the tradition with her family and friends, but there are many other connections being made at the farm as teams and clubs make the short journey to Sarpy County for bonding experiences, like Dent experienced with the cheer team. SADD also took students to Vala's for their annual outing on October 16, and student council taking their members on October 23.
"I think it's so popular in Omaha because it has so many things to do, a variety of activities," Thomas said." "And there isn't much to do here so when fall comes around everyone gets excited about something to do."
No matter the reasoning for going, Vala's is a hit for basically everyone that steps through the entrance, so as we look back over our fall that was cut short by the snow, it is definitely worth recognition. 
"For the first time going, it was overall and amazing experience" Dent said, "and I'm so glad I got to share it with some of my best friends and teammates."
Leave a Comment
About the Contributor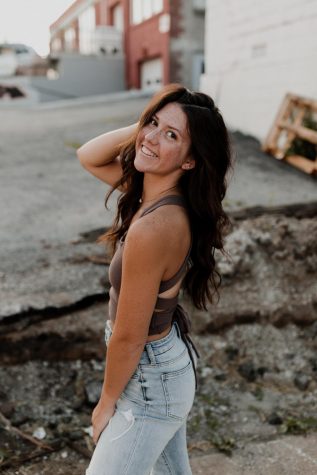 Cambri Rolfes, Design Editor-In-Chief
Hi! My name is Cambri Rolfes. I am a columnist and Design Editor-In-Chief and this is my second year on staff!