What's the buzz?
Elkhorn South's Quiz Bowl team takes third at Nationals.
This summer, Sunday, June 16th, a team from Elkhorn South placed third at a national competition. However, if anyone had to guess what team that was, the last guess on their mind would be quiz bowl.
For most, quiz bowl is virtually unknown, but for some, it is a massive part of their life. Quiz bowl is a trivia based competition in which two teams compete to answer questions from all kinds of different areas to test their knowledge. Participants practice every day at lunch, answering questions from past matches to improve their buzzer speed and familiarity with the process. Then, teams go to competitions and compete in either a novice or advanced division. A lot of different types of people participate in quiz bowl, but it takes a lot to succeed, which is exactly what last year's quiz bowl team did.
"My experience last year was the best quiz bowl I've been in," last year's varsity captain Ted Gernhart said.
Last year's team was one of the most successful ESHS has had. Out of the nine quiz bowls that the varsity team attended, they placed at eight of them, and won five overall. Within those wins was the state final, which Elkhorn South hasn't won since 2011. 
"Our team had a kind of synergy that I've never really experienced in a group setting before, even though we as individuals were all markedly different," said Gernhart.
The strategy for having a well performing quiz bowl team is to have a variety of knowledge. Each player has their own area of expertise, with the other members of the team deferring to them when a question within that area is asked. Last year, the members of the team all had very defined specialties including music, science, history, geography, math, anatomy, literature, and culture. The structure of the team is really what helped the team in their competitions, and eventually played a role in qualifying them for nationals. 
"I was confident that they would qualify because I knew they were one of the best teams I've ever coached," quiz bowl sponsor Kim Johnson said. 
Scores from tournaments throughout the year are submitted to Questions Unlimited, the organizer of the nationals competition. Questions Unlimited looks at the overall size of the tournament, as well as the points earned in each round. They then determine which teams qualify based on those factors, making sure that only the top tier teams are set up to compete.
"The difficulty at nationals was a lot more fun. It was a lot more challenging just to be in that environment where everything is expected to be at the next level," said nationals captain Dylan Sturdivant.
Nationals is quite different from regular matches, and the difficulty skyrockets as the best teams in the nation face off against each other. The entire structure of the rounds is different, with new, college level questions that are designed to throw the player off. To prepare for this high level competition, the team members used questions from past National events at their practices, mainly to familiarize themselves with the new style of rounds.When the time came, Elkhorn South dominated the Orlando phase, but eventually lost to the private school teams that prevailed in the two other phases.
"Losing was originally a bit surprising. We had that experience a few times, but never to that degree," said Sturdivant.
Walking into nationals, much of the team knew what to expect, having attended nationals in the past. That kind of insight into what they were about to face was exactly the sponsor's reasoning for bringing the team to nationals the year prior.
"It's like we are a big fish in a small pond here in Nebraska. And then we go to the national stage and suddenly we're a small fish in a big pond, and they can see the talent and dedication that they can aspire to," said Johnson. 
Even if a team doesn't have a good shot at winning the national title, just attending nationals and getting to watch the top level teams compete and the strategies they use can prove to be invaluable for a growing and developing team. In addition, even placing at all at a tournament of this caliber is a huge accomplishment, and since the first and second place teams were both private schools, Elkhorn South technically has the best public school quiz bowl team in the entire United States.
"While it sucks that we lost that opportunity to get first," said Sturdivant. "I think just being in that game and competing against such highly skilled opponents was really a fun experience."
About the Writer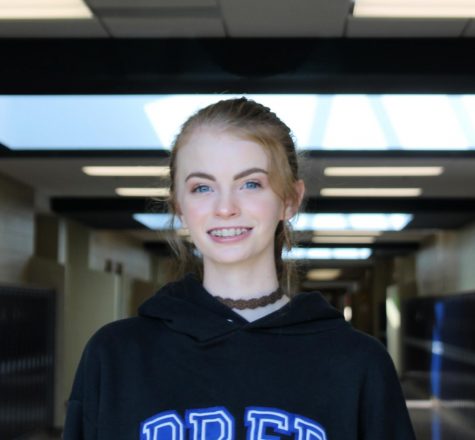 Emma LeDent, Sophomore Reporter
Hello! My name is Emma LeDent, and I am a Sophomore. I am a columnist and reporter, and this is my first year on the Storm Alert staff!