A formal future
Senior Sophia Berglund prepares for her future as an event planner
Hang on for a minute...we're trying to find some more stories you might like.
Some people turn to money, hobbies, or even follow their parents to figure out their future careers. For senior Sophia Berglund, all she had to do was gaze into her past. Memories of her young self sitting on the floor for hours, planning elaborate weddings for her Barbies. Thinking through every little detail of her weddings and carrying out her ideas in a perfectly choreographed event. As Berglund and her mom sat around the table reminiscing over these memories, an idea came to them. Berglund's continued passion for organization and carefully planning all the details of life makes her the perfect event planner.
Throughout her life, Berglund has found that she's more of an introvert. Joining the masses of people at parties and events doesn't have as great of an appeal as using her creativity to shape someone's vision of their perfect event into reality.
"I really like helping people in unconventional ways; I'm also a very organized person and I love planning things out and helping execute them," Berglund said.
While attending her grandfather's funeral and being forced to leave the room several times due to an allergy to roses, Berglund realized that she wanted to be able to ensure everyone gets their perfect day. Berglund hopes to start up her own event planning business to help people with special needs or disabilities. She hopes to create amazing experiences for people with autism, sensory overload issues, or even allergies.
"I think people don't really realize how big the market for [event planning for special needs] is because there are so many disabilities that are invisible, like you can't really see to the naked eye," Berglund said.
In order to reach her goal of opening her own company, Berglund hopes to attend Iowa State and double major in event management and entrepreneurial studies. After school, Berglund wants to work for a large company such as Disney or a TV network in order to gain valuable information and experience on event planning.
Currently, Berglund works at a bridal shop called Spotlight Bridal. Here, she gains valuable experience. Berglund spends her day fluffing the trains from the hundreds of gowns around her, pairing outfits with shoes, and helping find the perfect dress. Chiming in at the right moment is everything. Even something as simple as saying "You look so pretty in that dress," can be the difference between a customer buying one of the elegant dresses from Spotlight or going home empty handed.
"My favorite part of working at Spotlight is having girls come in that aren't very certain of what they want and walking out feeling like a queen," Berglund's co-worker Beth Sook said.
Spotlight doesn't just sell bridal gowns, but also has a wide variety of unique and different prom dresses ranging anywhere from 200-500 dollars. This year, Sook and Berglund have noticed that glittery/metallic, satin, halter top dresses, and simple dresses with lace up backs are popular among prom shoppers.
Spotlight bridal also has some of the best deals on tuxedos in the area. Starting at 99$, Spotlight's hundreds of color options can match almost any dress.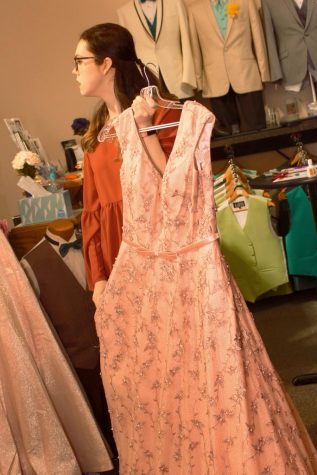 All in all, Berglund's job at Spotlight Bridal of interacting with people and finding the perfect dress to match their needs provides valuable experience to her future.