The smile behind the mask
An inside scoop on working retail during a pandemic
I never thought that I would have to live through a pandemic.  A time where face masks are worn more often than makeup and Clorox and Purell make up the signature scent of the population. I also never thought I would have to work while wearing a mask for my whole shift, keep a 6 feet distance from the customers I'm trying to help, and put on gloves every time I handle cash. I guess this is going to have to be the new normal for a while working retail.
It's nothing new that Nebraska is starting to reopen public spaces, including malls. While I am all for getting back to life as we knew it, or as close as we can it is so different for everyone, customers and employees alike. As an employee of Aerie, I would just like to share what my "normal" shifts look like now.
Walking into the mall, I can park a lot closer than normal because the malls seem nearly empty. I walk quickly into the store and a tad more quickly to the back stockroom where I lock my keys in my now personal locker, wash my hands, put on my mask, and clock-in, wiping the tablet down before and after I use it.. Once I'm on the clock I grab my "booty-bag" or fanny pack that all employees wear to keep my phone and anything else I need out on the floor. My headset is next and I wipe it down with a Clorox wipe, and plug in my personal earpiece, where before they were communal, with a picture of myself clipped onto it so customers know what I look like behind the mask. Once I have all I need for my shift, I use hand sanitizer before walking out.
Once on the floor, I am assigned a zone from my LOD (leader on duty). Normally, I am head cashier, at least for the first half of my shift. Working behind the cash wrap is the one position that has probably changed the most. Plastic sneeze guards are set up in front of the only two registers we are able to use, as a way to keep distance between everyone. Also, once we are assigned to a register, that is ours. No one else can use that one for the rest of our shift or until it is well sanitized. As the first customer walks up, I wipe down the counter, the and the card reader and can start checking them out. If they have a return, I have to scan the tad through the sneeze guard and have them drop the item(s) in the return bid in the center of the checkout counter. At the end of the day all of these returns are put in a bin in the back where they stay for three days. Yep you read that right. The checkout process continues pretty much as normal besides the fact that I have to repeat myself a few times when talking because of my mask and have to put on gloves if someone hands me cash. I hand the customer their bag, wish them well, then sanitize all surfaces again for the next.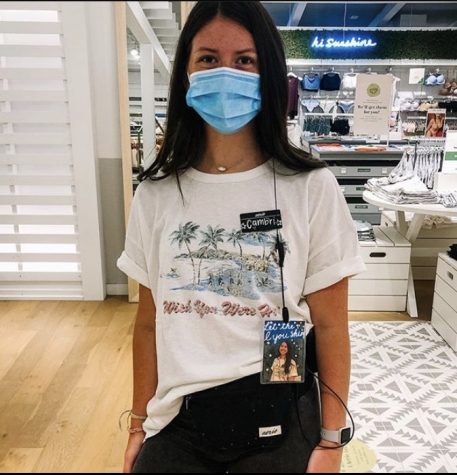 Standard customer interaction is also very different. It even seems rare. There is initial contact when they first walk into the store, especially if they are not already wearing a mask, which is required to enter. Each guest is also counted as they enter and exit to ensure we do not go over our capacity, which is 16 customers and employees (with between 3-6 workers for each shift, that means only 10-13 guests allowed inside at a time). There are some guests that give a little push back to our guidelines that require them to wear a mask or wait in line until there is room for them inside, but most everyone has been very understanding.
The fitting rooms is the last area of the store. This is pretty normal except for a few things. Unlike other stores, our fitting rooms are open, but we can only use every other room to ensure social distancing is followed. All surfaces are sanitized before and after each customer, but that seems pretty normal now. The major thing that is different and customers don't know is what happens to all clothes taken into fitting rooms. Once a guest leaves, all clothes left in their room are put on a rack in the back fitting room, not put back on racks and tables like before. At the end of the day, all of these clothes are steamed with a sanitizer and must sit for 24 hours before being put back out to be shopped. Between this, returns sitting for 3 days, and major shipping delays on inventory, sizes and style are very limited in store, and even online. So coming from someone who works retail, please try to limit what you try on so there is more available for guests that come in after you.
Clearly a lot is different during this period in time, and that is nothing less than true for those working and shopping retail. Next time you go into a store, please be kind, considerate, and patient, because just as much, if not more, is different for those working as it is for you.
Leave a Comment
About the Contributor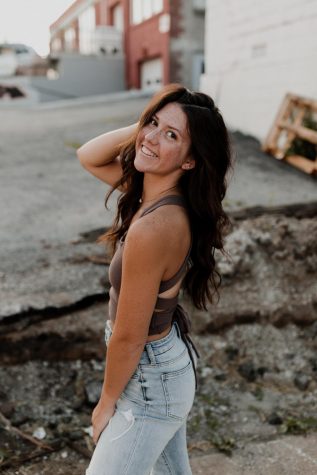 Cambri Rolfes, Design Editor-In-Chief
Hi! My name is Cambri Rolfes. I am a columnist and Design Editor-In-Chief and this is my second year on staff!