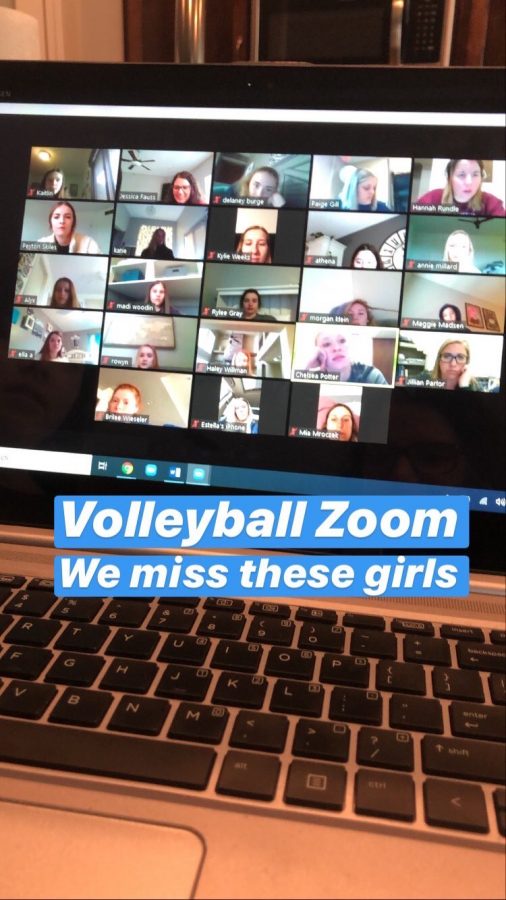 All players of the Elkhorn South volleyball program have received communication giving them a team, ranging from freshman to senior, groups are picked at random. The teams are then given tasks to complete where they will submit video evidence of the task being done. Some have even earned additional points using the program Zoom to share workout time.
Volleyball Coach Chelsea Potter explains what this looks like. "We are doing an inter-team competition where girls are broken into 5 teams to earn points for completing at home workouts. We mixed up the teams with upper and lowerclassmen and have a couple coaches with each team checking on accountability. " said Potter, "We also wanted to get them connecting in small groups to check on each other, share funny memes, and stay supportive of each other even when we aren't in school. We are one week in and the girls are killing it!! It's fun to see them cheering each other on!"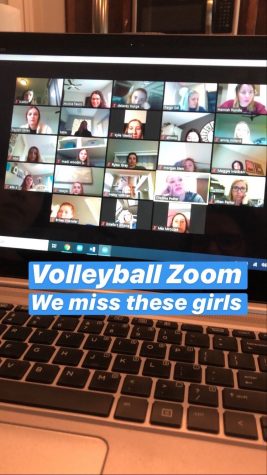 Doing so, keeps all of the players active and ready to go back into the volleyball season in August. The goal of the program is to train the athletes muscles with their time off from all sports and is an important step in staying in shape for next season.
Each day the volleyball players are given a different workout, and each girl on the team completes a "Tabata," which means do as many as you can in a certain amount of time. The girls try to go until they want and go onto the next skill.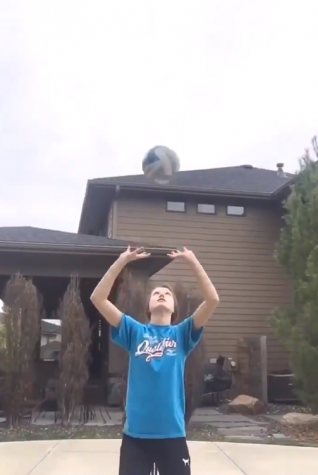 Besides staying active, some of the players are staying busy in other ways. Grace Henry, A freshman player who played on the JV team says she goes on a run every day with her older brother. She also says she has club workouts to do as well. 
These players are working hard to train for next season to make sure they are in shape and in their best playing ability to be able to play in the fall.
Just last season, the Elkhorn South Storm came out on top in the Metro Tournament as champions. They had a successful season overall,  winning the majority of their games. The team even advanced to the State Tournament but despite their efforts, lost its battle to Papillion South in set 3, 23-21. 
These girls have shown they have a very strong bond together working with each other to overcome any obstacles that were stopping them from moving in a positive direction. Throughout the season, players from all grades were becoming friends and made very strong friendships.
The coaches worked very hard on making these players feel comfortable within the program and to make sure they felt supported in everything they did. At the beginning of the season, the coaches and seniors had a meeting about safety which is a very important thing there and taken very seriously. The seniors reassured everyone that they would be there if anyone needed them and made sure that all the players had their numbers in case of emergency. The coaches came in and gave a similar lecture about how they would much rather have us safe than anything, giving all the players their information as well. Lexi Booth said something during her speech that really touched a lot of the players. "I would rather wake up at 3 a.m. to you calling and asking me to pick you up instead of waking up to hear that something bad happened to one of you."
To show how emotionally connected all these humans are, at the end of the season volleyball banquet, the whole thing was filled with tears. Coaches and Players getting emotional talking about each other. Especially with the close friendships with the seniors. Knowing they would be leaving next year and wouldn't be there to support was devastating. 
The program continues to thrive and will continue to grow in the future; it is amazing to be a part of it.