Classic Garlic Bread
bon appetit
I N G R E D I E N T S
1⁄2 cup (1 stick) unsalted butter
1⁄4 cup extra-virgin olive oil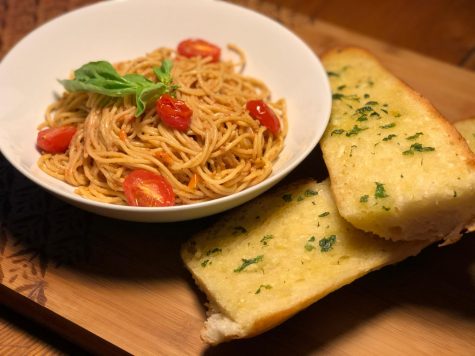 2 cloves garlic cloves, peeled, crushed
Large handful of fresh flat-leaf parsley leaves,
finely chopped
1 baguette
Kosher salt
P R E P A R A T I O N I N S T R U C T I O N S
Preheat oven to 450F. Heat butter and oil in a
small saucepan over medium heat. Add garlic
and parsley and cook, stirring occasionally, until
butter is completely melted.
Slice bread in half lengthwise, then place on a
baking sheet and brush cut sides with butter
mixture.
Slice crosswise 1" thick, without cutting all the
way through; season with salt and top with
Parmesan. Bake until golden, 10-15 minutes.
Spaghetti with Tomato and Walnut Pesto
bon appetit
I N G R E D I E N T S
2⁄3 cup walnuts
2 pints cherry tomatoes, halved
2 tablespoons plus 1⁄3 cup olive oil, plus more for drizzling
Kosher salt
6 oil-packed anchovies, coarsely chopped
2 garlic cloves, coarsely chopped
1 teaspoon finely grated lemon zest
1⁄4 teaspoon crushed red pepper flakes
1⁄2 ounces Parmesan, finely grated (about 1⁄2 cup), plus
more for serving
1 teaspoon freshly ground black pepper
12 ounces spaghetti
1⁄2 cup (packed) basil leaves
R E C I P E    P R E P A R A T I O N
Preheat oven to 350F. Toast walnuts on a rimmed baking sheet, tossing once, until slightly darkened, 8-10 minutes. Let cool.
Heat broiler. Toss tomatoes with 2 Tbsp. oil on a rimmed baking sheet; season with salt. Broil, tossing once until tomatoes are blistered
and have released some of their liquid, 5-7 minutes. Let cool.
Pulse anchovies, garlic, lemon zest, red pepper flakes, and 1⁄2 oz. Parmesan in a food processor until finely ground. Add walnuts and
half of tomatoes, then, with motor running, stream in 1⁄3 cup oil; process just until combined. Season with salt. Transfer pesto to a large
bowl and stir in black pepper.
Cook pasta in a large pot of boiling salted water, stirring occasionally, until al dente. Drain, reserving 1⁄2 cup pasta cooking liquid.
Transfer pasta to bowl with pesto and add a splash of pasta cooking liquid. Toss, adding more cooking liquid as needed, until sauce
coats pasta. Add basil and remaining tomatoes.
Divide among bowls; top with more Parmesan and black pepper and drizzle with oil.
Roasted Strawberry Cupcakes
I N G R E D I E N T S
Roasted Strawberries
1 pint strawberries, halved and cleaned
Half a lemon
1 tsp granulated sugar
Strawberry Frosting
1⁄2 cup ground freeze-dried strawberries
1 cup unsalted butter, room temperature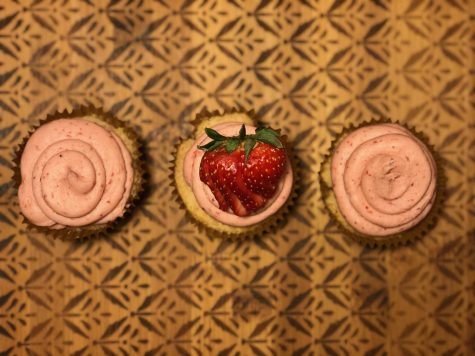 4 cups powdered sugar
1 tsp vanilla extract
2-3 tbsp milk
Pinch of salt
Roasted Strawberry Cupcakes
3⁄4 cup mashed roasted strawberries
1 1⁄2 cups all-purpose flour
2 tsp baking powder
1⁄4 tsp salt
6 tbsp unsalted butter, room tempera-
ture
1 cup granulated sugar
2 tbsp vegetable or canola oil
1⁄4 cup Greek yogurt
1 tsp vanilla extract
I N S T R U C T I O N S
Roasted Strawberries
Preheat your oven to 350F and line a rimmed baking sheet with parchment paper.
Rinse, cut the tops off, and halve the strawberries. Transfer to the baking sheet.
Top with a good squeeze of half a lemon (not the whole half just enough to lightly coat the tops of the strawberries) and sprinkle on
the sugar.
Bake for 8 minutes, toss, then another 8 minutes. Let the strawberries cool to room temperature then reserve 3⁄4 mashed roasted
strawberries for the cupcakes. This is about half of the pint.
Reserve the rest to top the strawberries.
Roasted Strawberry Cupcakes
Leave the oven at 350F and insert 12 liners into a cupcake tin.
Whisk together the flour, baking powder, and salt. Set aside.
With an electric mixer, cream together the butter and sugar on high until light and fluffy. Mix in the oil, Greek yogurt, and then the
roasted mashed strawberries.
Once combined, mix in the vanilla and eggs.
Fold in the dry ingredients and evenly disperse the batter between the 12 liners.
Bake for 18-20 minutes or until a toothpick in the middle comes out clean with a few moist crumbs.
Let the cupcakes cool before frosting.
Strawberry Frosting
Take your freeze-dried strawberries and pulverize in a food processor until you reach a fine powder. You'll need 1⁄2 cup of this straw-
berry powder for the frosting.
With an electric mixer, cream together your butter with 1 cup of powdered sugar and strawberry powder. Mix in the remaining pow-
dered sugar 1 cup at a time.
In between mixes, add in 1 tablespoon of milk at a time if the frosting is getting too dry or thick.
Finish with the vanilla and pinch of salt.
Frost your cupcakes with a large French star tip when they are completely cool. Top with a slice of roasted strawberry and enjoy! Store
in the refrigerator.
About the Writer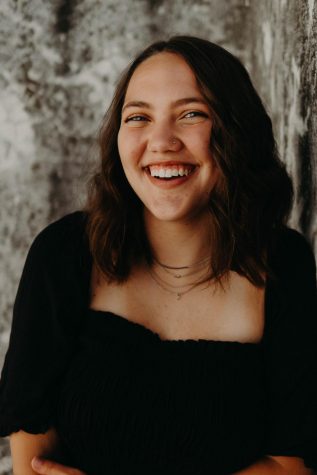 Mila Skrivan, Content Editor-In-Chief
My name is Mila Skrivan and I am the Content Editor-In-Chief. This is my second year on the Storm Alert Staff.